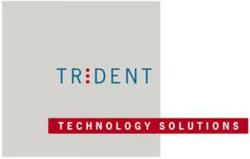 Fairfax, VA (Vocus/PRWEB) February 22, 2011
Trident Systems Incorporated, a small innovative technology solutions firm with a successful track record of providing Net-Centric C4ISR (Command, Control, Communications, Computers, Intelligence, Surveillance and Reconnaissance) solutions to the Department of Defense is diligently working to provide today's warfighters with a miniaturized, all-weather L and Ku-band radar capable of detecting and tracking vehicles and people on foot.
The system, categorized as a Synthetic Aperture Radar/ Ground Moving Target Indicator (SAR/GMTI), will compliment the real-time video capabilities on the US military's Tier II Unmanned Aerial Vehicles (UAVs), which are among the most feared and effective technologies in today's modern battle space. The US Army's SHADOW Tier II UAV is a prime candidate for Trident's new enhancement.
"This is a quantum leap forward in giving the commander at the Brigade level and below, a self-directed capability to detect and track, real-time, vehicles and people who are moving on foot," said Nick Karangelen, Trident's CEO and founder.
Karangelen also points out that Trident's advances in SAR/GMTI will unteather and greatly enhance the use of Tier II UAVs from their larger "older sisters" such as the JSTARS (Joint Surveillance Target Attack Radar System) and Grey Eagle Tier I UAVs. Those large and expensive systems are considered theatre-wide assets that must cue-up users and information for dissemination to the tactical level.
"We can integrate a new pod under the SHADOW's wing without interfering with any of the existing systems or capabilities," said Karangelen, a former US Navy nuclear power officer, "and in effect, give the brigade commander his own miniaturized JSTARS."
A flight test of a prototype miniature system is scheduled for the fall of this year at Yuma Proving Grounds using a Tiger Shark UAV.
"With the pull of a Quick Reaction Capability (QRC) requirement, we could get this in the field in 12 months or under," said Karangelen, whose company has been in business since 1985.
###