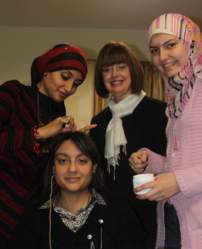 Neurofeedback has the capacity to functionally normalize the brain systems mediating selective attention and response inhibition in AD/HD children.
(Vocus/PRWEB) February 22, 2011
As the world`s attention focused on the events in Tahrir Square, a few miles away in Cairo, a Toronto couple was helping a group of Egyptian doctors to revolutionize the treatment of ADHD. Dr. Lynda Thompson said, "We were amazed at the level of interest we found at the Egyptian Canadian Cognitive Abilities Development Centre. Chairperson Hala S. Abdelkhalek, and other board members of Wayana International Foundation for Inclusion of Persons with Disabilities & Awareness had interviewed more than 200 medical doctor applicants who wanted the privilege of taking this training and working at the new centre. The result was a group of men and women doctors who were both keen and brilliant."
The Egyptian doctors were fascinated to learn how the Thompsons assess and treat children and adults at The ADD Centre in Toronto, and lecture around the world on the latest clinical practice and research. In a study done at the Universite de Montreal in 2006, fMRIs were performed as children with ADHD completed selective attention tasks. A treatment group had received neurofeedback training while the control group had not. Drs. Johanne Lévesque and Mario Beauregard who conducted the research stated, "Neurofeedback has the capacity to functionally normalize the brain systems mediating selective attention and response inhibition in AD/HD children."
Drs. Lynda and Michael Thompson and Drs. Johanne Lévesque and Mario Beauregard use equipment manufactured in Montreal, Canada by Thought Technology Limited. Lawrence Klein, VP of Marketing and Sales at Thought Technology commented, "We are proud of the work done by the Thompsons and the Canadian Government in Egypt. I recently met with Canadian Ambassador to Germany, Dr. Peter Boehm, and the Canadian High Commissioner to Dusseldorf, Leslie Reissner while in Germany at Medica. I am pleased to say that staff from the Consulate in Germany accepted my offer to attend the BFE Annual Meeting in Munich from February 22-26, 2011 where the Thompsons are teaching a 2-day workshop, and our company is to be honored with an award for supporting the European Foundation."
Leaving on the last plane out of Egypt, before the Canadian Embassy began arranging to ferry people to safety was quite the surprise. The Thompson's ADD/ADHD Workshop in Cairo had been a year in the planning. The objective was in a two week period, 8 or more hours a day, to teach medical doctors how to carry out a single channel and a two EEG channel assessment, set training parameters for patients, choose training screens, design and carry out a combined Neurofeedback plus Biofeedback treatment program (NFB + BFB). The assessment screens and procedures for treating common disorders that respond to NFB + BFB are all contained in the BFE Suites: Setting Up for Clinical Success and Specialized Application Scripts by the Thompsons.
The doctors also received 40 hours of didactic material covering the basics of both Neurofeedback and Bofeedback. They practiced doing psychophsyiological stress assessments and EEG assessments on each other culminating in doing the entire assessment on their own with patients. The Thompsons are looking forward to returning to Egypt to help the clinic in improving the lives of children with the use of neurofeedback.
Drs. Lynda & Michael Thompson
Dr. Lynda and Michael Thompson are based in Toronto, Canada where they run the ADD Centre. They have taught workshops in neurofeedback and biofeedback on five continents.
Lynda Thompson, Ph.D. is a licensed psychologist with a background in teaching. She has authored various books, like The A.D.D. Book: New Understandings, New Approaches to Parenting Your Child (1998) co-authored with paediatrician William Sears.
Michael Thompson, MD formerly practiced medicine in addition to serving as Associate Professor and head of post-graduate education in Psychiatry, University of Western Ontario, psychiatric consultant to The Hospital for Sick Children's neurology department, examiner for the Royal College of Physicians (Canada) and chairman of their examinations committee in psychiatry.
Together they have written numerous professional publications and collaborated on The Neurofeedback Book: An Introduction to Basic Concepts in Applied Psychophysiology, which has become a basic text in the field of EEG Biofeedback.
About the BFE
The BFE is a non-profit foundation headquartered in the Netherlands entirely supported by corporate and non-profit organizations and individuals and through the sale of software, classes, webinars and workshops in the BFE Online Shop. Their mission is to provide professionals worldwide with a greater understanding of biofeedback. Support for the foundation contributes to the advancement of research and education in this exciting field. The foundation's advisory board comprises leading clinicians and researchers from multiple disciplines. Using innovative approaches to sharing knowledge, they aim to inspire continued growth by educating new generations of professionals.
Contact:
Carol Meyers
Education Manager
Biofeedback Foundation of Europe
education(at)bfe(dot)org
http://www.bfe.org
# # #