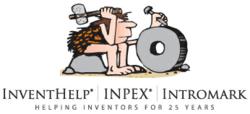 (PRWEB) February 23, 2011
InventHelp®, America's largest inventor service company, announces that one of its clients, an inventor from Utah, has designed a disposable bottle that could enable the user to drink without worry about possible spillage. This invention is patented.
"Go Go Drinks" would be appropriate for children of all ages and anyone who drinks while on the go. The leak free design would eliminate concerns over spilling a beverage, thus offering cleanliness and convenience. The double reverse suction would make it extra spill proof. The prepackaged drink would not include a removable lid, and the environmentally friendly design would allow for one-time, recyclable use.
Go Go Drinks would consist of an enclosed plastic bottle with a built-in silicone straw for older users. The invention could also work as a sippy cup for younger children who aren't able to drink from a straw. The straw would contain indented holes that would only allow liquid to pass through when suction has been applied. The straw would terminate in a lip similar to that of a sippy cup. Another perforated screen would be located below the lip. The suction unit would work in one direction. This would prevent access to the liquid inside the bottle. According to the inventor, the bottle could be prepackaged in a variety of selections, such as juices, milk, sport drinks and water. Go Go Drinks could be producible in a variety of colors, designs and sizes, and would feature a disposable and recyclable design.
InventHelp® is attempting to submit the invention to companies for review. If substantial interest is expressed, the company will attempt to negotiate for a sale or royalties for the inventor. For more information, telephone Dept.08-PTL-260 at (800) 851-6030.
# # #