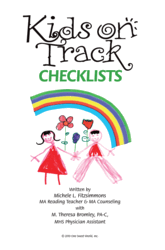 Yorktown Heights, NY (Vocus/PRWEB) February 23, 2011
No longer will you wonder, "Is my child developing appropriately?" Michele L. Fitzsimmons, MA, MA, with M. Theresa Bromley, PA-C, offer parents practical and honest advice in their new, unique guide to child development, Kids on Track Checklists (published by AuthorHouse). The checklists are arranged in an easy-to-use format, allowing parents to check off each developmental milestone as it is reached. Not only does the guide celebrate each child's accomplishments, but the book also provides activities to strengthen the child's skills. Kids on Track Checklists can help parents become aware of delays in development early enough to seek help when it is most effective. Guidance is provided on how and where to find that help.
In Kids on Track Checklists, Fitzsimmons and Bromley combine easy-to-read checklists with pictures and illustrations. The book tracks a child's progress in the following five main areas of development: Thinking, Social, Language, Moral, and Physical.
The checklists are divided into age brackets and include activities to help a child master age-appropriate skills. This is a must-read for expectant mothers or first-time parents.
Kids on Track Checklists is also available as a smart phone application. It enables parents to register one child or multiple children, track development, celebrate accomplishments and identify potential developmental delays, right on their phone.
"Tools like this are an excellent beginning in mapping out a path for exploring each individual child's unique needs, thereby enabling them to grow to their full potential," explains Sarah B. Neilson, M.D.
About the Authors
Michele L. Fitzsimmons, MA, MA, received a Master of Arts in teaching reading and writing from Manhattanville College and a Master of Arts in counseling from New York University. She is a New York State-certified reading and elementary school teacher. Fitzsimmons was a school counselor and reading teacher in the South Bronx, New York. She taught first grade in Katonah and Harrison, New York.
M. Theresa Bromley, PA-C, earned her master's in health sciences and physician assistance from the University of Medicine & Dentistry of New Jersey. She has been practicing hospital-based pediatrics since 2002, and has focused on neonatology since 2007. Bromley is currently a neonatal Physician Assistant for the Danbury Hospital Newborn Intensive Care Unit in Danbury, Connecticut.
For more information, visit http://www.kidsontrackchecklists.com.
EDITORS: For review copies or interview requests, contact:
Marketing Services
Tel: 888-519-5121
Fax: 812-961-3133
Email: pressreleases(at)authorhouse(dot)com
(When requesting a review copy, please provide a street address.)
# # #