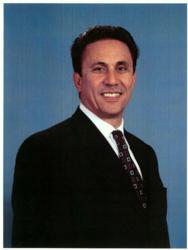 Sal is more than an industry "star." He is an enthusiastic and inspirational thought leader who serves his fellow professionals as a mentor and a role model.
Bryn Mawr, PA (Vocus/PRWEB) February 22, 2011
Salvatore F. Farina, MSM, CLU®, ChFC®, CLF®, will be inducted into The American College Alumni Hall of Fame in an award ceremony at the institution's Knowledge Summit in Las Vegas on Friday, June 10, 2011. Only six other individuals have ever received this honor.
Farina is a Managing Partner for New York Life's Long Island General Office. He is also the Past President of The American College Alumni Association.
The Alumni Hall of Fame is intended to recognize graduates of The American College's designation or degree programs who have made extraordinary contributions in time, effort and energy to this remarkable institution of higher learning. Individuals must be long-term volunteers and active participants in The College's community and learning environment.
The selection of the Alumni Hall of Fame recipient is based on past nominations and new nominations from graduates. Being nominated previously does not exclude individuals from consideration.
Larry Barton, Ph.D., CAP®, President and Chief Executive Officer of The American College stated: "As Past President of the Alumni Association, Sal is known and respected for his leadership. Beyond that, he has inspired numerous financial services professionals to pursue their professional education through The American College and stay connected with us. Sal is more than an industry "star." He is an enthusiastic and inspirational thought leader who serves his fellow professionals as a mentor and a role model."
Farina began his career as a New York Life Agent in 1985, where he advanced from Sales Manager to eventual Managing Partner in 2002. Along the way, he was awarded the Northeastern Zone's Agency Growth Award for outstanding Sales Growth in 1992, promoted to Agency Vice President in 1993, and then Zone Vice President in 1996.
By 1999, Farina was promoted to Senior Vice President for New York Life's Northeastern Zone where he was directly responsible for 1,800 agents and over $75 million of agent first year commissions. During his three-year tenure as Zone Senior Vice President, he took the territory through unprecedented life premium sales growth. Life premium rose 18%, 11%, and 30% respectively, leading to his receiving the New York Life Award of Excellence Trophy. Farina then decided to return to the agency where he began his career in order to succeed his mentor Val Ivanov as the Managing Partner of New York Life's Long Island General Office.
Since 2002, under Farina's leadership the Long Island agency, manpower has grown from 130 agents to over 400. The Office has also won numerous product awards and national trophies. Farina has also served as Chairman of New York Life's Managing Partners Advisory Committee and is currently an advisor to that committee.
He is a graduate of the New York Institute of Technology. Farina earned his Chartered Life Underwriter® (CLU®), Chartered Leadership Fellow® (CLF®), and Chartered Financial Consultant® (ChFC®) designations as well as his Master of Science in Management with an Emphasis in Leadership (MSM) degree from The American College. He is also an Investment Advisor Representative with Eagle Strategies Corp., a Registered Investment advisor. Today, Farina serves The American College as a volunteer adjunct faculty member where he holds the George G. Joseph/Richard A. Liddy Chair in Practice Management. In addition, he is a member of The American College's Foundation Board.
The Alumni Hall of Fame induction luncheon will be taking place at Caesar's Palace, in Las Vegas, Nevada on Friday, June 10, 2011 as part of The American College's annual Knowledge Summit and Commencement event. The Knowledge Summit is the premiere educational event of the year for financial professionals at any stage of their career. The conference offers insight from top industry thought leaders and the highest quality continuing education. For more information or to register for this event visit TheAmericanCollege.edu/KS2011Vegas
The American College is the nation's largest non-profit educational institution devoted to financial services. Holding the highest level of academic accreditation, The College has served as a valued business partner to banks, brokerage firms, insurance companies and others for over 84 years. The American College's faculty represents some of the financial services industry's foremost thought leaders. For more information, visit TheAmericanCollege.edu
# # #