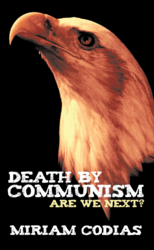 Miami, FL (Vocus/PRWEB) February 23, 2011
Miriam Codias' new book, Death By Communism, provides a first-hand account of the Communist takeover and ruin of Cuba. The scary part is that she sees the same trends unfolding in the United States.
Skeptical? Codias suggests we consider these signs:

Operations base established. Establishing a base of operations for the enemies of the United States in Cuba - only 90 miles away - was a success. They now have an island territory on which they have established their headquarters.
American mindset changed. The Communists' next goal would be to change the successful American mindset. Right before our eyes, freedom has changed to libertinage. God was taken away from the political discussion. Hating or questioning the actions of the United States was made to become the patriotic thing to do. Americans later were convinced that defending peoples and countries enslaved by tyrants was not to be part of the U.S. agenda.
Cubans' experience dismissed. Exiled Cubans, on the other hand, had to be portrayed as inflammatory, emotional, extremely right-winged, corrupt and certainly not to be trusted when speaking against the revolutionary government on the island.
They have completely succeeded on all accounts.
"Jan. 1, 1959 marked the end of prosperity and democracy for Cuba," Codias said. "The same forces that destroyed the beautiful island of Cuba systematically undermine the moral and physical integrity of the United States."
Are you open to discovering the truth about Cuba and its repercussions for the United States?
Death By Communism
By Miriam Codias
Softcover 5x8
ISBN: 9781452068749
Number of pages: 244
Published by AuthorHouse
Available at http://www.authorhouse.com, http://www.amazon.com and http://www.booksamillion.com
About the author
Miriam Codias is a Cuban-born American citizen who left her native country in 1961, two years after the communist takeover of the island. Deeply scarred, she found sanctuary in the United States. Miriam and her husband René had three sons: Emilio, René Jr., and Leonardo. On Feb. 3, 2007, after 45 years of marriage, her husband René passed away. Now retired, she has taken this opportunity to write about her personal experiences on the subject. Mrs. Codias has a Bachelor of Science degree in architectural technology from Florida International University, and a master's degree in Theology from Barry University in Miami. She is the author of several Christian songs and a book entitled The Charismatic Renewal and the Post-Vatican Church, which she published in Spanish.
AuthorHouse is the premier book publisher for emerging, self-published authors. For more information, please visit http://www.authorhouse.com.
**For Immediate Release**
Editors: For review copies or interview requests, contact:
Aimee Morgan
Tel. & fax: 317-602-7137
Email: amorgan(at)bohlsenpr(dot)com
(When requesting a review copy, please provide a street address.)
###