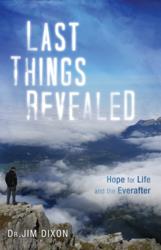 If you're like many Christians who wrestle with
fear about the future,this book will bring clarity
out of confusion. Lee Strobel
Colorado Springs, CO (Vocus/PRWEB) February 23, 2011
The topic of end times often causes heated arguments among believers, and can create division and confusion. But in his new book, Last Things Revealed, author Dr. Jim Dixon reduces your anxiety and confusion about these things by unlocking the teachings of God's Word, emphasizing hope for the future.
Lee Strobel, author of The Case for Christ said, "If you're like many Christians who have only a murky understanding of the end times—and perhaps wrestle with fear about the future as a result—this book will bring clarity out of confusion and help you rest in the security of God's love and his plan for humankind."
Dr. Jim Dixon walked his church family at Cherry Hills Community Church through an in-depth, interactive sermon series, paving the way for the book. Instead of promoting only one approach to controversial passages and ignoring the views held by other Christians, Dixon gives all valid interpretations a fair hearing. In his warm, trademark style, he looks at what we can learn from events and people in the Bible that are like stories out of the headlines of today's news. While other books tend to focus only on the author's theology of the end times, Dr. Dixon goes back and looks at relations between important people groups that he feels will have a significant story in the times to come—such as Islam and Israel.
Last Things Revealed (Biblica Publishing, paper, $14.99, ISBN: 9781606571019), addresses overly dogmatic beliefs about end times thoughtfully and carefully from Dr. Dixon's years of experience teaching on these subjects. As a passionate teacher and historian, he weaves in history and current events to back up each lesson from Scripture.
Dr. Jim Dixon has served as senior pastor at Cherry Hills Community Church for the past 28 years, a congregation of over 6,000 adults in Highlands Ranch, Colorado. Dr. Dixon, a respected scholar and teacher, is also a history buff and movie fan, often peppering his messages with interesting anecdotes and movie clips to help translate God's truth from the Bible to the present day. A California native, he has master of divinity and doctor of ministry degrees from Fuller Theological Seminary, and has two children and three grandchildren with his wife Barbara.
About Biblica
Celebrating more than 200 years in ministry, Biblica provides God's Word to people through translation, publishing, and Bible engagement. Biblica's ministry extends worldwide, with outreach in 55 countries. Biblica has translated the Bible in more than 100 languages and is the translation sponsor and ministry publisher of the New International Version® (NIV®) of the Bible, the most widely read and trusted contemporary English translation. Through its worldwide reach, Biblica engages people with God's Word so lives are transformed through a relationship with Jesus Christ. For more information, visit BiblicaDirect.com.
Mike Dworak, Biblica Publishing Marketing Director • mike.dworak(at)biblica(dot)com • 719-867-2768 • BiblicaDirect.com
###