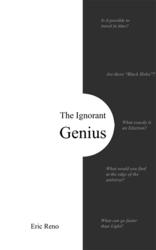 Pretoria, South Africa (Vocus/PRWEB) February 23, 2011
The Ignorant Genius, a new book by Eric Reno, has been released by RoseDog Books.
Eric is neither a Nobel Laureate nor an internationally acclaimed theoretical physicist. However, as a young person he often asked "Does light have mass?", "What causes gravity?" and "What is an electron?" The answers received were either a deafening silence or seemed to him as confused babble. He believes he is not alone in this regard and that many fellow humans feel similarly disposed.
Where to look? Man is equipped with a brain and mind that is truly unique in the universe and every normal human has these, so why not meditate reasonably on known facts and thus gain some insight into our universe?
You are holding one result of this process in your hand right now.
Eric is a member of the species "Ignorant Genius" just as you are. You too can grasp what is to be perceived with a fresh approach to viewing our wondrous universe.
The Ignorant Genius is a 152-page paperback with a retail price of $18.00. The ISBN is 978-1-4349-8197-4. It was published by RoseDog Books of Pittsburgh, Pennsylvania. For more information or to request a review copy, please visit our virtual pressroom at http://www.rosedog.com/pressroom or our online bookstore at http://www.rosedogbookstore.com.
###