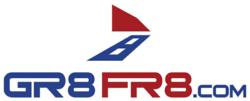 Our GR8Rating (intrasystem evaluation tool) feature allows shippers to choose carriers based on more than just price
Grand Rapids, Michigan (Vocus/PRWEB) February 22, 2011
GR8FR8.com is not only a cloud-based TMS for shippers to centralize freight management. It's also a place for carriers to find new business partners, transact, and communicate in real-time. Unlike common freight-matching or "bidding boards," carriers are able to utilize the FR8Mart (online marketplace) application to search for available freight in desired lanes and submit rates via the system without picking up the phone. They are also free to submit rates that are profitable for them, as the system does not require carriers to bid lower than previous bids. "Our GR8Rating (intrasystem evaluation tool) feature allows shippers to choose carriers based on more than just price," adds Paul Laidler, VP of Operations. Also noteworthy, GR8FR8 allows shippers to direct-tender shipments to favorite carriers, and not utilize the FR8Mart application.
"We're building our carrier network concurrently with efforts to bring shippers onto the system. We are over half way to our goal of 10,000 carriers by June," notes Executive VP, John VanKampen. GR8FR8 expects it will take approximately 6-12 months to populate a large base of frequent shippers and are therefore offering the first 6-months free to carriers. After the complimentary membership period ends, carriers can decide to remain active for an annual fee. There are no transactional fees associated with carriers using GR8FR8, and no payment information is collected for the promotional offer.
Carriers who sign-up for GR8FR8 will enjoy live chat support and short training videos to get them started, although they'll find the system is very easy to navigate.
GR8FR8's promotional period for carriers is a limited time offer. Simply visit the 'pricing' page on GR8FR8.com to get the promo code.
# # #