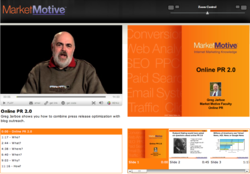 KVNow! lets everyone access online presentation power that was previously only available on an enterprise level
Concord, MA (Vocus/PRWEB) February 22, 2011
KnowledgeVision Systems, which markets online video presentation software, today announced KVNow! -- a new internet service for anyone who wants to put the power of video online presentations to work on websites and electronic mail campaigns without installing or learning software.
The KVNow! service helps business communicators create and host ready-to-use KnowledgeVision online presentations virtually overnight for as little as $225. The KVNow! website helps customers prepare and upload a video clip and Microsoft PowerPoint slides, and puts them in the hands of an experienced KnowledgeVision producer. That producer builds a synchronized presentation in one to two business days and sends back links and information on how to embed the presentation into a website or email campaign.
KnowledgeVision combines online video, Microsoft PowerPoint slides, images, and virtual handouts into tightly synchronized presentations that can be viewed anywhere and at any time on the World Wide Web. KnowledgeVision presentations are used all over the world for sales and marketing, training and professional development, and communications with customers, employees, and investors.
"KVNow! lets everyone access online presentation power that was previously only available on an enterprise level," said KnowledgeVision CEO Michael Kolowich. "With the launch of our new KVNow! service anyone -- whether an individual, a small, medium or a group within a large-sized business -- can have engaging KnowledgeVision presentations created for them by a professional producer."
"We've also received considerable interest in KVNow! from our enterprise clients, looking to achieve a quick start to their KnowledgeVision-based content collections," added Kolowich.
To learn more about the KVNow! service offerings please visit http://www.knowledgevision.com/kvnow.
Watch a demo of the KnowledgeVision online presentation platform. See examples of KnowledgeVision in action.
About KnowledgeVision Systems
Based in Concord, Massachusetts, KnowledgeVision Systems serves the world's growing need for on-demand and live knowledge by creating rich, engaging presentations that synchronize video or audio, PowerPoint and other images, just-in-time footnotes, and virtual handouts into interactive presentation experiences. These are viewable on the Web at any time with any type of computer. KnowledgeVision is the world's most powerful and flexible online presentation platform. KnowledgeVision presentations are used in the Americas, Europe, and Asia for sales and marketing, training and professional development, and communications with customers, employees, and investors.
# # #