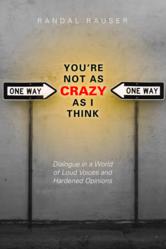 What if passion is found in willingness to rethink our most cherished beliefs?
Colorado Springs, CO (Vocus/PRWEB) February 24, 2011
Shut Up and Listen.
Warning: open and honest dialogue in a world of loud voices and hardened opinions can change your life
If evangelicals are known for anything, we are known for our opinions. Opinions we are not afraid to express, and with much gusto and volume.
But what if passion for truth is found not in the loudest voice and most unshakeable convictions, but rather in the resolve to listen to and learn from others? What if passion is found in willingness to rethink our most cherished beliefs? What if it is found in a refusal to embrace simple black and white categories when the world offers a bewildering array of gray? What if it is found when we refuse to dismiss those who disagree with us as simply stupid or wicked?
What if passion for truth is found when we seek to learn from others through open and honest dialogue?
In You're Not As Crazy As I Think (Biblica Publishing, $16.99, paper, ISBN: 9781606570937), Randal Rauser presents a very different picture of the passionate pursuit of truth. He says, "Christians like to say that 'all truth is God's truth.' But then why are we so resistant to finding truth in others? The first step toward truth is to say 'If I'm completely wrong, I want to know about it.'"
The pursuit for truth begins when we rethink our truth paradigm as we learn how to listen, how to hear and learn from groups that we silence by our biases. Could it be that those we have dismissed or ignored—such as liberal Christians, Darwinists, animal rights activists, and atheists—are not all that stupid or wicked after all? Could it be that they might even have something important to share about the truth?
Randal Rauser (randalrauser.com) is associate professor of historical theology at Taylor Seminary in Edmonton, Canada, where he teaches in the areas of theology, apologetics, worldview, and church history. Rauser is the author of several books including Theology in Search of Foundations and Finding God in the Shack.
About Biblica
Celebrating more than 200 years in ministry, Biblica provides God's Word to people through translation, publishing, and Bible engagement. Biblica's ministry extends worldwide, with outreach in 55 countries. Biblica has translated the Bible in more than 100 languages and is the translation sponsor and ministry publisher of the New International Version® (NIV®) of the Bible, the most widely read and trusted contemporary English translation. Through its worldwide reach, Biblica engages people with God's Word so lives are transformed through a relationship with Jesus Christ. For more information, visit BiblicaDirect.com.
Mike Dworak, Biblica Publishing Marketing Director • mike(dot)dworak(at)biblica(dot)com • 719-867-2768 • BiblicaDirect.com
# # #