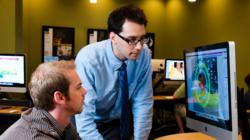 "Our new location in New Port Richey opens up our quality educational programs to an even broader group of students," said Rasmussen College Campus President Claire Walker.
Tampa, Fla. (Vocus/PRWEB) February 22, 2011
Rasmussen College announced today it will celebrate the Grand Opening of its new Pasco County, Florida college campus in New Port Richey campus from 4 to 6 p.m. on Wednesday, February 23rd with a free open house event and a public presentation of a $5000 scholarship award to a local recipient of the 110-Year Anniversary Scholarship.
The campus was recently moved from its previous location in Holiday, Florida to its new location at 7660 Little Road in New Port Richey, near the Government Center. The community is invited to explore the campus and meet the faculty, staff and students at the college's newest Tampa Bay area facility. Food for the ribbon cutting and open house will be provided by Sonny's Bar-B-Q.
"Our new location in New Port Richey opens up our quality educational programs to an even broader group of students," said Rasmussen College Campus President Claire Walker. "With our impressive facility, the New Port Richey campus provides all of the tools students need to learn and grow and to achieve their career goals."
Tarpon Springs resident Spencer Gaunt will also be presented with his scholarship check during the event. Gaunt won the $5000 scholarship as a part of 110 scholarships valued at a total of $1 million that were given away by Rasmussen College to celebrate its 110-year history. Gaunt is using the scholarship to obtain a Professional Nursing degree in the Rasmussen College School of Nursing.
"Becoming a nurse is the beginning of what I hope to be a diverse and rewarding career for me," Gaunt said recently. "This degree is a gateway that will allow me to find the best specialty within medicine to help others when they need help the most. I want to be there for people in their hardest times and help them in ways that few people can."
Members of four local chambers of commerce will attend the event, including representatives from West, Central, and East Pasco County and the Hispanic Chamber of Commerce.
The Pasco County campus, located at 7660 Little Rd. in New Port Richey, is one of 21 Rasmussen College campus locations in the Midwest and Florida that offer Bachelor's and Associate's degrees in high-demand career fields like Business, Allied Health, Information Technology, Nursing, Criminal Justice and more.
For additional information about the Rasmussen College New Port Richey campus, visit http://www.rasmussen.edu/locations/florida/pasco-county/.
ABOUT RASMUSSEN COLLEGE
Founded in 1900, Rasmussen College is a premier provider of educational experiences, dedicated to the growth and development of its students, employees, and the communities it serves. Accredited by the Higher Learning Commission, Rasmussen College offers Bachelor's degrees, Associate's degrees, certificates, and diplomas in fields with the greatest occupation opportunities to more than 15,000 students both online and through its network of 21 campuses. By partnering with leading universities, Rasmussen offers opportunities to students beyond the Bachelor's level. The Rasmussen Partner Network gives students the opportunity to earn Master's and Doctoral degrees completely online, at their own convenience, from prominent universities around the country. To learn more about Rasmussen College, please visit Rasmussen.edu.
# # #