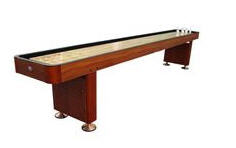 We really wanted to strengthen our lines so far as shuffleboard and bumper pool tables are concerned
San Diego, CA (Vocus/PRWEB) February 23, 2011
For its latest expansion, leading online game table retailer GameTablesOnline.com has acquired two prominent niche gaming sites: Shuffleboard.net and Bumper-Pool-Tables.com. The deal, which took place last week, has been the fruition of months of negotiations and planning.
The merger is indicative of GameTablesOnline.com's skyrocketing success over the course of the last few months, as the economic climate begins to calm down and customers feel more comfortable purchasing categorically non-essential, entertainment-only items. Throughout the brunt of the economic crisis, the online store was able to make ends meet and weathered the tumultuous financial storm that left so many other online stores, especially niche retailers selling entertainment and luxury items, completely bankrupt and forced to close down.
But despite their ability to weather even a tough economic situation, the company continues to see many avenues for improvement, including gaps in their product line.
"We really wanted to strengthen our lines so far as shuffleboard and bumper pool tables are concerned," says Mike Bowman, a spokesman for the company. "It was an area we could really improve."
GameTablesOnline.com already features a respectable catalog of bumper pool and shuffleboard tables, in addition to their other notable products: foosball tables, air hockey tables, pool tables, ping pong surfaces, and more.
Says Bowman: "Shuffleboard and bumper pool hasn't really been our strongest niche, frankly. We're hoping to change that with this new merger. Additionally, we've begun taking stock of some Venture shuffleboard tables. Venture is a great brand, and we are really excited to start hosting their products on our sites!"
Venture, located in New Jersey, has been an outstanding leader in innovative and beautiful shuffleboard tables. Their unique designs are made from natural woods. Some have even been featured in major competitive events – such as their Ambassador model, which debuted in the 2000 North American Shuffleboard Championships in Reno, Nevada.
"This company, Venture, delivers an absolutely amazing product. They're a very welcome addition to our line of quality shuffleboards!" Mike Bowman says. "And we just know that our customers are going to love them, too. Whether it's for your office, den, or family room, Venture has the perfect board for your needs."
"And that's not just sales pitch! It's really true!"
GameTablesOnline.com will continue working on its newly acquired domains, cleaning them up and loading new products to the online storefronts. The sites are active and ready for sales now, but site construction is expected to be ongoing while the new products and administrative systems are set in place. GameTablesOnline.com's main site, however, will go unchanged in the coming months, and will continue to be completely available for sales as well as customer support.
You can see the new line up of bumper pool tables on the site as early as next week.
###