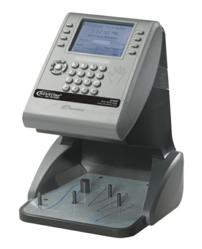 The phase-1 release of the new GT400P hand reader supports the standard punch in, punch out, swipe-and-go punch, up to eight (8) work group levels of configurable job transfers, view timesheets and accrual hours.
Diamond Bar, CA (Vocus/PRWEB) February 22, 2011
NOVAtime Technology, Inc. (http://www.novatime.com), a forward-thinking workforce management solution development company, announced their newly released HandPunch GT400P push technology time clocks and its tablet computing mobile roadmap with the 1st implementation of employee punch and kiosk features on the Apple iPad at the NOVAtime annual Business Partner Conference in Las Vegas between February 16th and February 18th, 2011.
The push technology implemented by NOVAtime automatically "pushes" employee time punches to NOVAtime's Time and Attendance/Workforce Management solution without a dedicated data-collection computer. Brian Harris, Director of Professional Services for NOVAtime, stated, "Our push technology clocks require minimal network configuration, and are supported across the country, even in the most secured of networks. The installation for any of our push technology time clocks is simple, quick, and easy." Mr. Harris added, "NOVAtime's family of innovative push technology devices has grown – we have added the biometric GT400P hand reader to the NOVAtime family of push technology time clocks. The NT6500 is a kiosk/smart clock, the NT300P2 is a proximity time clock and is very affordable, the NT380P2 is a fingerprint time clock, and the NT6000 mobile barcode scanner works with Wi-Fi or GPRS in cellular."
Gil Sidhom, VP of R&D for NOVAtime, said, "The phase-1 release of the new GT400P hand reader supports the standard punch in, punch out, swipe-and-go punch, up to eight (8) work group levels of configurable job transfers, ability to see up to 3 weeks of time punches on the same clock, plus the great kiosk features for employees to view their entire pay period of time punches, as well as being able to view their sick, vacation, and PTO accrual hours."
With the strong growth worldwide for tablet computing, driven by sales of the iPad in 2010, NOVAtime unveiled its employee punch and kiosk solution for iPad, NOVAtime i4000App. NOVAtime also showcased its new NOVAtime company site, a native Apple presence where both applications were built in Objective C. This is NOVAtime's 2nd implementation of the mobile roadmap. The 1st one was the ruggedized mobile NT6000P barcode scanner that supports Wi-Fi and GPRS in cellular in May 2008.
NOVAtime's reseller channel/business partners from around the country attended the annual NOVAtime Business Partner Conference to learn more about NOVAtime's products and solutions. NOVAtime revealed new products and highlighted many new features and functions for their workforce management solution for its11th year.
"Our solutions are load balanced and truly scalable to fit major corporations and government agencies. Whether your company prefers to purchase a system or have NOVAtime host it for your company, we have a proven solution that can help you to manage your workforce efficiently," says Frank Su, NOVAtime's President.
Established in 1999, NOVAtime has over 10,000 customers all over the world. Due to the tremendous job that NOVAtime and its business partners have done over the past few years, organizations are continuing to recognize the NOVAtime brand name as a leader in the time and attendance/workforce management industry. For more information, please contact sales(at)novatime(dot)net or call 877.486.6682.
About NOVAtime
With corporate offices located in Diamond Bar, California, NOVAtime utilizes the latest technology advancements to its complete suite of Workforce Management solutions. NOVAtime serves companies with complex data collection requirements such as badge/biometric time clocks, browser-based data collection, telephone, PDA scanners, etc. It offers solutions for scheduling, labor allocation, job costing, work-order management and cost center allocation. NOVAtime has two supported software platforms: a licensed client-server application with web capabilities and hosted software as a service application with multi-tiered multi-tenant infrastructure. For more information on NOVAtime, please visit http://www.novatime.com or call 877.486.6682.
# # #