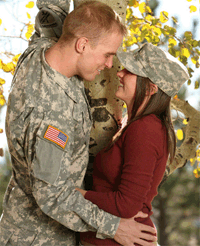 We are so honored and proud to be able to provide two of our adjustable electric home hospital beds to such deserving veterans
Postville, IA (PRWEB) February 22, 2011
Transfer Master Products announced the winners of free adjustable electric home hospital beds in its first Iraq and Afghanistan War Veteran Valentine's Day Sweetheart Contest. Heather McBride of Fort Rucker, Alabama won for the nomination of her father, who served during the first Gulf War (even though her husband is also an Iraq-Afghanistan war veteran) while Shannon Owens of Largo, Florida was selected because of her heartwarming nomination explaining the challenges her husband has faced as a result of his tours of duty in Iraq. The winners were revealed Monday night on the nationally-syndicated Jim Bohannon radio show.
"We are so honored and proud to be able to provide two of our adjustable electric home hospital beds to such deserving veterans," said Aaron Goldsmith, Transfer Master Products Founder and President. "There were so many touching nominations from all over the US, it was very difficult to narrow down the entries to select a single winner. We hope that these beds will help these brave veterans sleep and rest more comfortably."
Heather nominated her father, Donald Gene Swiney, SR, to win the bed because as she explained, "He may not be my husband but will ALWAYS be my Valentine. He was in the Army and was deployed during the first gulf war. After his deployment he was medically discharged because of his knee. He has now had three replacements on the same knee and because of the surgeries has actually lived through a Pulmonary Embolism, which is rare. It is hard for him to get around and he struggles daily getting in and out of his bed, car, chair, etc. So anything that would help him out would be wonderful."
Shannon nominated her husband, US Army SPC. William Owens. Her nomination explained, that among other ailments, "He doesn't sleep much at all anymore after 11 years in the military and 2 tours to Iraq. He came home and found out he's suffering from PTSD, TBI, bone spurs in his spine and a compression fracture of the lower lumbar of his spine."
Originally the company planned to give away one of its twin-size adjustable electric hospital beds to an Iraq-Afghanistan war veteran, through a nomination process on its Facebook page. However, nominations were so compelling that Transfer Master decided it was too difficult to determine a single winner – and instead decided to award two beds.
In the contest, Iraq-Afghanistan veteran spouses, sweethearts and supporters were encouraged to submit nominations by writing on the wall (or posting on the company's blog) explaining why their nomination should win the free adjustable electric bed (or one of of the other prizes offered).
In addition to the standard twin-size adjustable home hospital beds awarded to the Grand Prize winners, five runner-ups will each receive Soundspa AM/FM clock radios while three other runner-ups will each receive memory foam standard size contour pillows.
About Transfer Master Products, Inc.
Founded in 1993 in Postville, Iowa, Transfer Master engineers electric beds for sleep centers and pregnancy wards, hospitals and home use. For Transfer Master, customer-driven design and innovation is paramount. Each bed is custom designed and hand-built for the user. The company received the industry's first patent in 1993 for combining adjustable medical bed functionality with home use design as well as for creating the first specialized dual-use King beds.
The company builds beds that are low enough for users to transfer in and out of, but high enough for caregivers to easily access. Proudly designed and manufactured in the United States of America, Transfer Master beds are durable, comfortable and attractive, providing customers with the functionality and comfort they deserve.
To find out more, please visit http://www.transfermaster.com, visit us on Facebook or follow us on Twitter.
CONTACT:
David Kaufer
Zenwerks
206-262-7302
david.kaufer (at) zenwerks.com
# # #