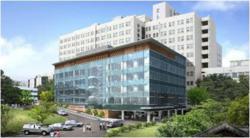 We are confident that Cardiology PACS will become a secondary PACS market overseas, following our success in Radiology PACS markets worldwide
Phillipsburg, NJ (Vocus/PRWEB) February 22, 2011
On February 16, 2011, INFINITT Healthcare signed a contract with Yonsei University Health System to provide the INIFNITTCardiology PACS at Severance Cardiovascular Hospital. The hospital, located in Seoul, South Korea, has the largest cardiology and cardiovascular departments in the nation. INFINITT Healthcare will install INFINITT Cardiology PACS software, change the hardware system and migrate legacy data to the new PACS.
YUHS was founded in 1885 as the first modern medical institution in Korea. Today it has approximately 3,700 beds, three million outpatient visits and 1 million inpatients annually. Severance Cardiovascular Hospital was established for high-tech medical treatment of heart disease and consists of four different departments in Cardiology: internal heart, pediatrics, cardiovascular and anesthesia.
According to hospital administrators, they have been using other vendor solutions since 2004. However, they recently decided to replace their legacy solutions with INFINITT's single database solution that offers applications for all departments. YUHS has agreed to evaluate and assist in software development to enhance its performance in diagnosing and treating heart disease.
The CEO of INFINITT Healthcare, Sun Joo Lee said, "We entered the Cardiology PACS market in Korea later than our competitors, but have already secured contracts with almost 65% of domestic hospitals. With this level of success, we are confident that Cardiology PACS will become a secondary PACS market overseas, following our success in Radiology PACS markets worldwide."
About INFINITT
With over a decade of experience, INFINITT has provided affordable, state-of-the-art medical imaging and information capabilities to numerous Radiology, Cardiology, Orthopedics, and Dental healthcare facilities worldwide. Since the early origins of medical imaging and information technology, including Picture Archiving and Communications System (PACS), 3D Visualization, Radiology Information System (RIS), and Clinical Information System (CIS), our primary objective has been to develop the most advanced, cutting edge medical imaging and information solutions. Augmenting that objective is our strict compliance with worldwide industry standards such as DICOM, HL7, IHE, and HIPAA.
INFINITT provides its products and solutions to more than 2,000 medical facilities in 25 countries worldwide and strives to become the World's Best Brand in the Healthcare IT industry by providing the highest levels of service, standards compliance and scalability, addressing not only today's imaging and information needs, but providing for the fully-digital enterprise of the future.
For more information, visit the INFINITT website at http://www.infinitt.com
###