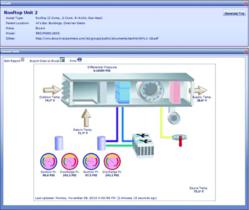 "We were continually told that this is the way our industry needs to go, but we're the first to offer a way to do it," said Ian McPherson, VP of Sales and Marketing.
Fargo, ND (Vocus/PRWEB) February 23, 2011
Pedigree Technologies introduced its newest solution for service chain management at the AHR Expo in February to an overwhelming response from OEMs and service companies seeking the ability to optimize their service business based on the real-time needs of customers' equipment.
Pedigree Technologies OneView® for HVAC combines continuous equipment performance monitoring with field service management applications to lower service delivery costs, increase efficiency, prevent unplanned downtime and add new revenue streams for service contractors from premium service contracts. By connecting service vendors to their customers' equipment, OneView closes the service loop and allows HVAC service providers to move from preventative to predictive maintenance.
"We were continually told that this is the way our industry needs to go, but we're the first to offer a way to do it," said Ian McPherson, VP of Sales and Marketing. "By combining this application with our fleet and maintenance applications, we take these companies beyond scheduled maintenance with real-time diagnostics. "
Pedigree Technologies OneView for HVAC was designed by industry experts to assist facility and operations managers in effectively monitoring and assessing the performance of heating and cooling equipment. The solution is easy to use and does not require an expensive building automation system thanks to an easily installed sensor kit and intuitive web-based application that works with almost any kind of heating, cooling or refrigeration unit.
OneView for HVAC uses technology specifically designed to:

Continuously monitor all equipment and assets, from virtually any manufacturer, including rooftop units, boilers, heat pumps, chillers and air handlers;
Monitor critical variables including calls for heating or cooling, superheat and sub cooling, components such as fans, motors and gas valves, pressures, electricity usage, temperature and overall efficiency;
Deliver exception-based alarms, alerting of conditions based on user-defined variables;
Allow the HVAC technician to respond faster, with remote diagnostics of the problem, cutting down the time to repair and downtime for the customer;
Report on real-time cost of operation, historical performance and overall operational efficiency;
Create a competitive advantage for HVAC contractors, connecting with their customers' equipment through on-going predictive maintenance.
Pedigree Technologies demonstrated the advantages of OneView for HVAC at the AHR Expo New Product Showcase on February 1, in addition to live monitoring demonstrations throughout the show. The web-based application allows for both the HVAC contractor and his or her customer to monitor the operation of HVAC equipment easily and securely from anywhere with internet access, including mobile devices. Alerts and notifications can be received via email, text and in-cab messaging.
About Pedigree Technologies:
Pedigree Technologies is a provider of cloud-based solutions that give organizations real-time visibility into operations and empower them to locate, track and monitor stationary and mobile assets worldwide. Built on a unique and scalable platform, Pedigree solutions provide an operations command center that increases operational efficiencies, improves workflow, manages inventories and logistics and maintains equipment—all in one simple system. For more information, visit http://www.pedigreetechnologies.com.
###