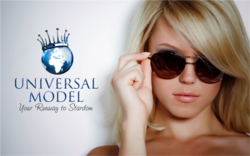 Universal Model has created an easy to use platform for Casting Agents to post their jobs and get the results they are looking for, be it models or artists.
New York, New York (Vocus/PRWEB) February 24, 2011
Universal Model (http://www.universalmodel.net) is a modeling agency introducing new opportunities for current and aspiring models to connect with casting agents. Its upcoming Web platform will bring models, photographers, artists, and casting directors from all over the globe together for business purposes. The modeling company welcomes models from all areas of the industry including the runway, print ads, television commercials, etc. The new Web site will create the opportunity for existing models to showcase their talents and personalities in order to gain the interest of casting agents searching for new talent.
The genesis of the Web has catapulted existing stars and made many new ones. Due to the popularity and worldly reach of the Web, amateurs and veterans can make an impact on their intended industries. The Universal Model Web site leverages the far-reaching community of the Web in order to facilitate the synergy between workers in the modeling world. The Web site will act as a gateway between current and aspiring talent and those, such as casting agents, searching for talent. "We believe that beauty is universal, and therefore we strive to reveal the hidden beauty and talent from every corner of the planet. With this in mind, we have created the ideal gateway to shorten the gap between models and casting agents," states Universal Model founder, Youssef Nasser.
The Web site will serve as an advanced resource for both models and casting agents. For models, the site will promote casting calls, jobs from all over the globe, management tools to help further their modeling careers, and a chance to be crowned the Universal Model of the Year (includes a $30,000 cash prize). Models can establish profiles to showcase and promote their talents and personalities. "Our annual crowning event is one like none other done before," relays Nasser. "We will be crowning one lucky model who will win $30,000." For casting agents, the Web site will offer a large selection of models, actors, dancers, photographers, and hair and makeup artists; basic and advanced search options; and casting call management options.
Universal Model is a company that brings together talent and agents. Male and female models who are interested in the modeling and artistry industries can orchestrate and maintain online portfolios and communication platforms to further their careers. Small and large casting companies that are looking to hire talent for commercials, films, theater, and events can leverage Universal Model services to find its next, big star.
# # #