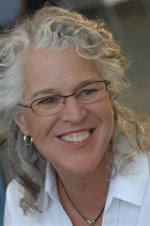 "In every moment, we are either interfering with or enhancing the relationship we have with our children. The choice is ours." – Vicki Hoefle
Middlebury, VT (Vocus/PRWEB) February 24, 2011
On March 1st, 2011 at noon, Virginia Prescott, host of NHPR's, "Word of Mouth" will interview Vicki Hoefle about her parenting program, Parenting On Track™. Joining Prescott and Hoefle will be Catha Lamm of Etna, NH. Catha is the Director of Public Information at Dartmouth College and mother of three girls - ages, 13, 11, and 9.
Building on more than 20 years of experience as a parent educator, Vicki Hoefle, founder and director of parentingontrack.com, offers a widely acclaimed parenting program that supports families to invest in relationship strategies rather than focus on discipline strategies.
Based in Adlerian Psychology, the program offers a diagnostic framework for parents to assess where their family is today, along with concrete tools to move intentionally toward their vision for the future.
"Most parents come into the program with specific questions about a certain behavior—from whining to getting kids to help out around the house," says Hoefle, "and we tackle those issues, but from an angle that looks at the root causes of those behaviors to provide a long term fix, not just a band-aid."
The Democratic Parenting Style that invites children into the process of decision making and includes them in an active role in the family and in their own lives from an early age, can be described as offering freedom with order; freedom for the children to learn from their mistakes and order for the parents to set boundaries and reasonable limits. The phrase "firm and kind" describes the balance that is created in families when they follow Vicki Hoefle's program, Parenting On Track™. Firm is respectful to the parents and kind is respectful to the child, maintaining balance in the family.
"At best, we have 18 years to teach our children the skills they'll need to walk into their adult lives with confidence and enthusiasm," says Hoefle. "I've raised 5 kids and taught this class to hundreds of thousands of parents, and I can tell you that this program works."
"Parenting On Track™ is one of the most powerful ways to impact the next generation", said Deb Rooney, CPA & mother of 3 children, ages 12, 10 & 8.
Introduced to the concepts of Parenting On Track™, over 1 year ago, Catha chronicled her family's journey in an inspiring and captivating blog, Twelve and 1/2 weeks. Along with Hoefle who has raised 5 children of her own, while teaching the Parenting On Track™ program for over 20 years across the country, Lamm will share her personal experiences of practicing this philosophy with her family.
As described on NHPR's website, "Word of Mouth is the sound of new ideas - conversations, stories and shared experiences that sort passing fads from lasting trends. The show uncovers what's new, what's next and what will affect our lives and our world."
Parenting On Track™ is a proactive, sustainable program based on Adlerian Psychology. From eliminating "useless" behaviors such as whining and power struggles, to showing children that they are capable and important members of the family, the Parenting On Track™ program provides parents with tools to create a respectful and peaceful family life. The program was recently awarded The Baby Planners™ Seal of Approval & received the Parent Tested Parent Approved Award. For more information, or to purchase the Parenting on Track™ Home Program, please visit http://www.parentingontrack.com.
To listen to the show after March 1, 2011, please visit [http://www.nhpr.org/wordofmouth
###