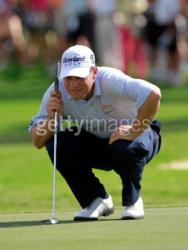 We are partnering with Roland because he epitomizes the values and professionalism we adhere to at Alpari.
New York, NY (Vocus/PRWEB) February 23, 2011
CSE is pleased to announce that PGA Tour golfer Roland Thatcher has signed an endorsement agreement with Alpari (US), LLC ("Alpari"), a global provider of online foreign exchange ("FX," "Forex") trading services. The endorsement will allow Thatcher to promote the Alpari brand, with a focus on its newest offering, QuantumFX. QuantumFX is a high-performance, institutional FX trading platform, providing corporations, hedge funds, banks and high frequency trading institutions with access to a deep and diverse pool of liquidity.
"We are partnering with Roland because he epitomizes the values and professionalism we adhere to at Alpari. Roland has proven to be a leader in his sport both on and off the golf course," states Daniel Skowronski, Chief Executive Officer of Alpari (US).
Jermaine Harmon, Senior Vice President of Alpari (US), adds, "We're confident that Roland's representation of Alpari on the PGA Tour will further help build the Alpari brand and raise the visibility of our new service offering, Quantum FX, throughout the world."
The Alpari / QuantumFX logo will be featured on the left chest of Thatcher's apparel throughout the 2011 season. He will also make appearances and host events on behalf of Alpari throughout the 2011 PGA Tour season. Thatcher also comments on the partnership, "Alpari is a leading financial services firm and it is a thrill to be representing them on the PGA Tour. I'm very excited to be joining the Alpari team and I look forward to a long, successful relationship with them."
Roland Thatcher enters his sixth PGA Tour season, and fourth consecutive, in 2011. Thatcher turned professional in 2000 after a stellar career at Auburn University where he earned All-American honors. He began his career on the second tier Nationwide Tour in 2002 before earning PGA Tour status in 2004 and 2005. Thatcher returned to the Nationwide Tour in 2006 and 2007, where he had one of the most illustrious seasons in Nationwide Tour history, recording two wins and an astonishing fifteen Top 25 finishes. His finish on the money list in 2007 earned him a spot back on the PGA Tour, where he has remained since then. In 2010, Thatcher recorded two Top 10's, including a runner-up finish as the season-ending Children's Miracle Network which propelled him into the Top 125 on the Official Money List and secured his PGA Tour card for the 2011 season.
Thatcher will open up his 2011 PGA Tour campaign at the Sony Open in Hawaii, January 13-16 at Waialae Country Club in Honolulu, HI.
Roland Thatcher's Profile
Born: April 11, 1977
Birthplace: Hampton, VA
Residence: The Woodlands, TX
Family: Wife – Lindsey, Son – Grayson
College: Auburn University (2000, Political Science & Criminal Justice)
Height: 5'9"
Weight: 185 lbs
Turned Pro: 2000
http://www.RolandThatcher.com
Best Finishes (2010)
Children's Miracle Network Classic: 2nd
Zurich Classic of New Orleans: t10th
About CSE
Atlanta-based CSE is a full-service agency dedicated to working with a wide range of clients in the sports and entertainment fields for more than 21 years. CS&E's expertise includes Client Representation of athletes, coaches, and broadcasters; Corporate Marketing Services for Fortune 500 and growing companies, including property consulting, public relations, event services and creative services; and Media Services consisting of television, mobile and interactive production. Some of the world's most influential people and brands trust CS&E's integrated approach. Visit us at: http://www.groupcse.com.
About Alpari:
Founded in 1998, the group of Alpari companies ("Alpari Group") is one of the world's fastest growing providers of online foreign exchange ("FOREX", "FX") trading services, with offices in ten countries, including London, New York, Shanghai, Dubai, Moscow, Mumbai and Frankfurt, serving more than 150 countries. With over 400 employees worldwide, more than 330,000 customer accounts and monthly Forex trading volumes in excess of $147 billion,* the Alpari Group is one of the market leaders in Forex.
Alpari (US) was established in 2006. The company is based on Wall Street, in the financial district of New York City, where it is dually registered by the Commodity Futures Trading Commission ("CFTC") as a Futures Commission Merchant and a Retail Foreign Exchange Dealer and has been a member of the National Futures Association ("NFA"), Member ID: 0379678, since 2007.
Please note that trading foreign exchange on margin carries a high level of risk and may not be suitable for all investors. For more information about the Forex industry and the regulatory protections offered to those who trade within it, please visit the CFTC and the NFA websites at http://www.cftc.gov and http://www.nfa.futures.org.
*May 2010
###