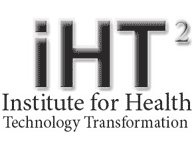 It was a rare opportunity to engage federal officials, CEO's, and other healthcare leaders with rich dialogue on how we can move our healthcare system forward.
New York, NY (Vocus/PRWEB) February 22, 2011
The Institute for Health Technology Transformation held an executive dinner, "Incentivizing the Health IT Innovation Ecosystem," at HIMSS Sunday that featured health IT innovators and federal representatives discussing the current state of health technology innovation.
The dinner was hosted by Waco Hoover, CEO, Institute for Health Technology Transformation, and guests included Aneesh Chopra, Chief Technology Officer, Assistant to the President and Associate Director, Office of Science & Technology Policy; Farzad Mostashari, MD, ScM, Deputy National Coordinator for Programs and Policy; and Wil Yu, Special Assistant, Innovations and Research, Director, Strategic Health IT Advanced Research Projects, Office of the National Coordinator for Health Information Technology, US Department of Health and Human Services.
"We are pleased to continue to offer opportunities brining together leaders in the healthcare industry to foster collaboration, innovation, and the effective use of technology across the healthcare continuum," said Waco Hoover, CEO, iHT2. "It was a rare opportunity to engage federal officials, CEO's, and other healthcare leaders with rich dialogue on how we can move our healthcare system forward."
The small dinner, which gathered 20-25 company representatives, hosted a lively interaction between health IT innovators and investors discussing the current development environment, new health IT markets, removing barriers to entry, incenting adoption, meaningful use-driven demand, modular certification, and more
About the Institute for Health Technology Transformation
The Institute for Health Technology Transformation is the leading organization committed to bringing together private and public sector leaders fostering the growth and effective use of technology across the healthcare industry. Through collaborative efforts the Institute provides programs that drive innovation, educate, and provide a critical understanding of how technology applications, solutions and devices can improve the quality, safety and efficiency of healthcare. http://www.ihealthtran.com
###