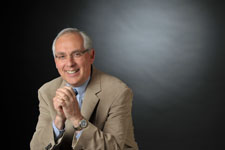 Miami Beach, FL. (Vocus/PRWEB) February 22, 2011
Force 3, delivering innovative data center, unified communications and security solutions, today announced that Chief Operating Officer Les Trachtman has been recognized with the "ValueSelling Associates Award for Transformational Leadership" at the 5th Annual Stevie Awards.
Trachtman was selected for the "ValueSelling Associates Award for Transformation Leadership" based on his efforts to help transform Force 3's business practices providing a platform for accelerated growth. Trachtman has spent the majority of his career helping growing companies accomplish continuous improvement to reinvent themselves and grow.
Trachtman received the award at the 2011 Stevie Awards Sales & Customer Service Gala held here yesterday. The Stevie Awards for Sales & Customer Service honor and generate public recognition of the accomplishments of sales, customer service, and call/contact center professionals worldwide.
The awards are governed by a Board of Distinguished Judges & Advisors including many of the leading figures in business. Sponsors include several of the top suppliers to sales and customer service professionals.
It has been my pleasure to work with Les and the Force 3 team on transforming the sales effort by introducing the ValueSelling Framework®" said Rick McAninch, Senior Partner of ValueSelling Associates. "He's been able to maximize sales results, and reemphasize Force 3's focus on delivering customer success. He is truly deserving of this award."
Trachtman, who joined Force 3 in 2008, has 30 years of entrepreneurial experience in the technology industry. He has previously served as CEO of several technology companies including Transcentive, and e-OneHundred Group. Prior to these ventures, he spearheaded corporate development for Progress Software and Hyperion Software.
Previous winners of the Stevie Awards include executives from Gartner, Inc., Rosetta Stone and Avaya.
About Force 3
Force 3 is the trusted provider of Data Center, Communications and Collaborations, Borderless Networks and Cyber Security services for Federal agencies and their key partners. With headquarters in Crofton, Md. and offices in Herndon, Va. and San Antonio, Texas, Force 3 has a 20-year history of delivering, supporting, and maintaining cost-effective IT products and services. At Force 3, "Networks are People" means that we never lose sight of the human element of every business relationship. Our dedication has resulted in being named one of Cisco's Top 5 Federal Gold Partners in America, as well as Federal Security Partner of the Year every year since 2006. For more information, please visit http://www.force3.com.
###