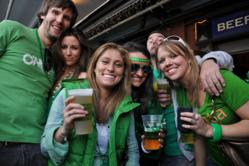 March 10 - 17 is an entire week of savage craic.
Atlanta, GA (Vocus/PRWEB) February 24, 2011
Fadó Irish Pub & Restaurant is throwing the largest St. Patrick's Day party in the city of Atlanta with celebratory events beginning on Thursday, March 10 and carrying on through Thursday, March 17 for a "Week of Savage Craic." Craic (pronounced crack) is a common term used in Ireland to describe fun, entertainment, and enjoyable conversation with good friends. Savage craic means an epic party and is the theme of this year's celebration. The "Week of Savage Craic" will close with a huge outdoor festival on St. Patrick's Day where Fadó features the best mix of Irish music, food and entertainment in the city.
In addition to serving a menu of Irish food including such authentic delights as corned beef and cabbage, traditional Irish boxty and fish n' chips, Fadó in Atlanta also offers a variety of Irish beers like Guinness, Harp, and Smithwicks, along with Bailey's Irish Cream, proper Irish coffees and a wide selection of Irish whiskeys. But the Irish fun doesn't stop there – here is a list of the St. Patrick's Day events occurring at Fadó this year:

Thursday, March 10: Bushmills Whiskey Dinner at 7 p.m. The dinner is hosted by Master of Whiskey Kevin Mulcahy and features a four course meal paired with different whiskeys for $45 per person. Reservations are required and can be made by calling Events Manager Helén Kirk at 404-841-0066. Menu available upon request.
Friday, March 11: 9th Annual St. Baldrick's Charity Event beginning at 3 p.m. This event raises money to support childhood cancer research. Fadó sets up four barber chairs, and "shavees" commit to having their heads shaved at the restaurant that day in order to raise funds for The St. Baldrick's Foundation, which is a volunteer-driven charity committed to funding the most promising research to find cures for childhood cancers and giving survivors long and healthy lives.
Saturday, March 12: Atlanta St. Patrick's Day Parade After-Party. Following the parade downtown, Fadó will show 6 Nations Rugby live (a $20 cover charge is mandated by the restaurant's satellite provider). Click here for match schedule and match day menu. At 10:30 p.m. that evening, DJ Mynd will be spinning a mix of tunes.
Monday, March 14: Traditional Irish Session starts at 8 p.m. A collection of Atlanta's premier Irish musicians gather at Fadó for the best music west of the Shannon, and dancing is always encouraged!
Tuesday, March 15: Perfect Pint Night begins at 8 p.m. Guests will get a shot at pouring their own pints to see if they can do it as well as the great bartenders at Fadó; the perfect pour is done in 119.5 seconds. Some cool beer schwag will be up for grabs!
Wednesday, March 16: Annual St. Paddy's Pub Quiz starts at 8 p.m. with Quizmaster Rob Kiely. The Pub Quiz features great prizes and tough new questions to test guests' wits.
Thursday, March 17: St. Patrick's Day Outdoor Festival. Fadó opens at 6 a.m. and will be serving kegs and eggs. Those who arrive before 8 a.m. get to skip the cover charge. Military (current and retired), police and fire/rescue workers get in all day at no charge. The street festival begins at 12 p.m. and includes several beer tents, bagpipers and Irish dancers along with more live music throughout the evening. The first band will kick off at 2 p.m., and Into the Mystic will play at 6 p.m. Desire, Atlanta's very own U2 cover band, will play at 8:30 p.m. to wrap up the street festival experience.
Fadó will also be offering guests a Foursquare deal the week leading up to St. Patrick's Day. Guests who check in at Fadó two times between March 10 and March 17 will not have to pay a cover charge at the restaurant before 4 p.m. on March 17.
About Fadó Irish Pub and Restaurant
Fadó (pronounced fuh-doe) Irish Pub and Restaurant was the first Irish pub to be designed and constructed in Ireland and shipped and installed in Atlanta. Fadó is distinguished by its genuine Irish hospitality, quality of its pints and craic (pronounced 'crack', a uniquely Irish form of fun). Fadó has been voted 'Best Of' by a number of local and national publications. Get more information by visiting Fadó's website, Facebook page, or by following Fadó on Twitter.
###