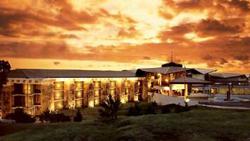 This week the Narconon rehabilitation program will celebrate its 45th year rehabilitating those with substance abuse issues.
Oklahoma (Vocus/PRWEB) February 24, 2011
Gary Smith, the Executive Director Narconon Arrowhead is not just the CEO of one of the largest and most successful drug and alcohol rehabilitation programs in the world. Back in 1975, he struggled with his own addiction to heroin which he fully recovered from through Narconon's drug treatment. He is one of many thousands of success stories this rehabilitation program has had and now commands the central hub in the Narconon Network; an inpatient rehabilitation facility that can house up to 260 addicts at a time.
"When I enrolled into the Narconon program, I had lost everything including the relationship with my family," says Smith. "My brother was the only family member who hadn't given up on me. My possessions had gotten down to one change of clothes and two packs of cigarettes and that is what I brought with me when I enrolled into the program."
What Gary got from the Narconon program was a purpose to live again without abusing drugs and the certainty that if any of his friends of family fell victim to drug abuse he would know how to help them live and be successful without drugs. Gary dedicated his life to helping others and has now worked for the Narconon organization for the last 35 years.
This week the Narconon rehabilitation program will celebrate its 45th year rehabilitating those with substance abuse issues. From its early days, the facility has always had its own unique method of handling addiction and creating drug free lives and creating long-term sobriety for clients.
"Watching the Narconon organization outlive hundreds of drug and alcohol programs that have started and closed over the last 35 years makes me feel very privileged and proud to be a part of the Narconon network," says Gary. "This has also supplied me with a level of personal security that is hard to explain. I have an inner strength and feeling of safeness in knowing that the Narconon organization has been going strong and consistently for 45 years and that Narconon will be around long into the future no matter what monumental problems may afflict the planet."
As for Narconon's continued future expansion, Smith sees Narconon assuming a leadership role in the drug and alcohol rehabilitation field and becoming "the spark that will activate a grassroots movement that will end the drug problem on planet Earth in the future."
For more information on the rehabilitation program through Narconon, contact Narconon Arrowhead today at 800-468-6933 or log onto http://www.stopaddiction.com.
###