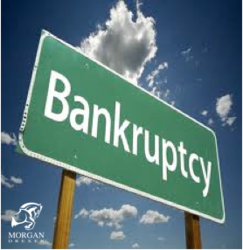 Anaheim, CA (Vocus/PRWEB) February 28, 2011
January bankruptcy filings are down, continuing the trend since the peak of the crisis last year. Filings were just above 90,000 the first time filings have been below 100,000 since January 2010. In comparison to December filings were down by 22%.
Is this a sign that the economy is showing an improvement? According to Strategic Director of Planning for Morgan Drexen, Susan Muzila says the answer is no. "The decline in bankruptcy filings during January doesn't really show that there is improvement in the economy, January is typically the lowest filings month of the year. However, filings are down 9% on that of last year so this is a much better indicator on the economy of the US," says Muzila.
Nationwide, filings amounted to about 305 filings per million adults, about one in every 3000 people. Only four states showed higher filings than last year. Delaware's were 18% higher with Idaho, Utah, and California following closely behind.
Michael Perrero is a Utah resident dealing with over $11,000 in debt. Michael like so many consumers across America was dealing with high medical bills. Sadly, long after the death of his wife Michael is still dealing with high levels of debt. Michael describes the impact on his life of having high debt, "Very Stressed, that's how it makes you feel, the economy is getting worse in Salt Lake City I had to take action" says Michael.
Michael engaged with an attorney based debt resolution company in Utah. He states now that his finances are back on track. It was a good experience all the way through. They communicated with me and did what they say they were going to do, "says Michael. Michael engaged with United Law Group under the supervision of attorney Jeffrey Golden a Morgan Drexen supported attorney. Mr.Golden also serves as the United States Bankruptcy Court as a trustee.
Morgan Drexen provide integrated legal support to attorneys across the nation therefore linking the critical workflow from front office to back office allowing for enhanced productivity for the consumer.
For Randall Russell it was also medical bills that lead to more than $20,00 in debt. "I was paying the minimum and it seemed like the debt was getting higher," says Randall. He engaged with the Rosen & Winig law firm to settle his debt. Rosen & Winig is supported by the integrated legal services of Morgan Drexen.
Randall was thrilled with the attorney-based debt resolution services. "The fact that just everything started working just exactly like what they said. You know, exactly what I was told it's what happened. "I thought everything was fair. I mean everything was told to me upfront and there wasn't any surprises," says Randall
"I sleep better at night I am now debt free," continues Randall. Working with an attorney based debt resolution program is successful in the month of January more than 6,000 settlements were made by Morgan Drexen supported attorneys.
###