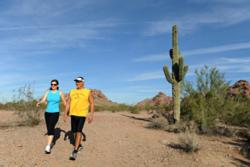 Tempe, AZ (Vocus/PRWEB) February 24, 2011
Cactus League Spring Training is right around the corner, starting on February 25 and ending on March 29, 2011. The time has come for fans to pick a week or weekend, book flights and find accommodations for this annual sporting event. The Tempe Tourism Office is ready to help visitors plan their trips for spring training and provide suggestions on how to best enjoy Tempe's great weather and attractions.
Cactus League Spring Training schedules, stadium maps, ticket information and Tempe hotel specials can be found at http://www.tempebaseball.com. The Cactus League consists of 15 MLB teams that play in more than 200 games in 33 days in 10 different stadiums. It is a baseball fan's perfect spring getaway. The Los Angeles Angels of Anaheim call Tempe home as they play teams such as the Cubs, the Rockies, the Brewers and the Giants. With several games a day, it's easy to catch your favorite team.
Tempe Diablo Stadium, home to the Angels, is located just 10 minutes from Phoenix Sky Harbor International Airport and within minutes of several Tempe hotels and resorts. Tickets at the Angels home field start at just $6, one of the lowest tickets prices in the league. Spring training games are the best way to see your favorite teams and players up close. Die hard fans can watch practices for free from 9:00 a.m. to noon every day during spring training season. Players are oftentimes willing to sign autographs as they walk from the practice fields to the stadium.
Baseball fills the afternoons, but there are plenty of ways to enjoy Tempe before and after the game. Enjoy the outdoors at Tempe Town Lake with recreational boating at its best. Tempe Boat Rentals offers the perfect escape with a variety of watercraft options. Everyone in the family can join in the fun with options including kayaks, pedal boats, hydrobikes, electric skiffs, electric surrey top and pontoon style boats. Reserve a kayak or pedal boat for just $15 or try a hydrobike for $20.
Not a water fan? Take a Segway tour to get the best views of Tempe Town Lake. Segway of Tempe offers 90-minute tours around the six-mile perimeter of Tempe Town Lake. Tempe Town Lake is a 220-acre urban oasis, located north of Arizona State University and south of Papago Park, a Sonoran desert preserve. The Tempe Town Lake Discovery Tour is $75.00 per person. For more information, please visit http://www.segwayoftempe.com or call 480-306-4801 for reservations.
Just north of Tempe Town Lake, Papago Park is the perfect place to hike, mountain bike or picnic, while surrounded by beautiful desert vistas. Nearby is "A" Mountain, located in the Mill Avenue District, where hikers are rewarded with views of the lake, ASU and rock drawings left hundreds of years ago by the Hohokam people. For a less strenuous way to enjoy the Sonoran Desert, the beautiful Desert Botanical Garden is a scenic destination where you can learn about desert plants from around the world.
Evening options are aplenty in downtown Tempe. Visitors can explore a variety of shops, restaurants and taverns located within the Mill Avenue District. Every Thursday evening, "Music on Mill" brings musicians to the Mill Avenue District from 5-10 p.m. Music on Mill encourages strolling along the brick-lined sidewalks in Tempe's downtown, with approximately 10 musical acts performing on and near Mill Avenue.
Tempe Marketplace is bustling night and day with 1.3 million square feet of retailers, dining and nightlife destinations and live music outdoors in "The District" Friday and Saturday evenings. Starry skies, colorful fountains and cozy couches provide the backdrop for these free live music performances. Performances begin at 7 p.m.
Looking to reserve your time in the sun for spring training games? Located inside Arizona Mills mall, SEA LIFE Arizona is an aquarium that takes visitors on a journey from Phoenix's lakes through river canyons and caves to the Cabo San Lucas shoreline. Then, visitors can take a trip off shore to experience a coral shoaling ring, a bay of rays and an underwater tunnel, complete with sharks and other deep ocean dwellers. There are more than 30 display tanks to explore. Adult tickets are $18 and children 3-12 are $11. Discount tickets can be purchased online in advance.
About Tempe Tourism Office
The Tempe Tourism Office is a non-profit organization devoted to marketing Tempe, Arizona as a desirable visitor and group destination site. The Tempe Tourism Office's mission is to provide visitors, media professionals and meeting planners with information on Tempe hotels, Tempe restaurants, Tempe entertainment and local points of interest. To learn more about Tempe, Arizona please call 480-894-8158 or 800-283-6734 or visit http://www.TempeTourism.com.
###