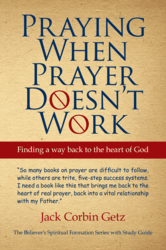 According to Jack Corbin Getz, prayer's true purpose has lost its meaning – and consequently, its effectiveness – in recent times.
Tucker, GA (Vocus/PRWEB) February 24, 2011
A recent USA TODAY/Gallup poll reported that 92% of Americans say there is a God and 83% say this God answers prayer. Almost that many also claim to pray "regularly", if not daily. So, when statistics show that most people only spend a few minutes each week engaging in prayer, it begs the question: If we truly believe in prayer, why aren't we doing it more, and do people even think that it works? According to Jack Corbin Getz, prayer's true purpose has lost its meaning – and consequently, its effectiveness – in recent times. It's time to go back to biblical basics, and Getz is here to help with his new guide, Praying When Prayer Doesn't Work: Finding a Way Back to the Heart of God (published by iUniverse).
Divided into three sections, Praying When Prayer Doesn't Work begins by defining what God's idea of prayer is. Asserting that desires and application are more important than formulas or habits, Getz backs up his arguments with examples from the Bible as he reminds readers that "Jesus' disciples asked to be taught to pray, not how to pray." Identifying the four primary reasons people give for not praying, Praying When Prayer Doesn't Work goes on to stress honor, honesty and humility as essential attitudes for successful praying.
A second section presents Getz's helpful, copyrighted "The Lord of the Prayer Rings" chart as a visual guide to circumstantial prayer that is sure to energize readers and get them excited about praying again. A "Prayer Portfolio" is included, adding to the book's hands-on approach while giving readers a handy guide for making optimal use out of the three main types of prayer – share, subject and silent – outlined in previous chapters.
Praying When Prayer Doesn't Work concludes with a study guide suited for personal and group use, a number of secondary resources, several Bible prayer studies and a useful reading list. Getz's extensive bibliography, evidence of his exhaustive research, is full of information for those looking for additional information on the subject. Build your spiritual formation and give your prayers purpose and meaning with this practical new guide.
What readers are saying about Praying When Prayer Doesn't Work:
"It's practical, real, and cleverly addresses the important spirit issues about praying, especially in times of testing."
"So many books on prayer are difficult to follow without a Master of Divinity degree while others are trite, five-step success systems. I need a book like this that brings me back to the heart of real prayer, back into a vital relationship with my Father."
"I read Jack's inspiring words right when I needed a faith lift and it came through. It helped me remember who I am, but more important, who God is and how He works with people."
About the Author
A self-described "Christian contrarian," Jack Corbin Getz was a pastor for 30 years and has always had a keen interest in questioning commonly accepted church dogmas and the ambiguities found within the Christian faith. He currently teaches Bible study courses in two local churches and has been internationally published in spiritual and cultural journals. Praying When Prayer Doesn't Work is Getz's first published full-length book and he has a second ready for publication.
iUniverse is the leading book marketing, editorial services and supported self-publishing company. For more information, visit http://www.iuniverse.com.
EDITORS: For review copies or interview requests, contact:
Marketing Services
Tel: 800-288-4677
Fax: 812-961-3133
Email: promotions(at)iuniverse(dot)com
(When requesting a review copy, please provide a street address.)
# # #