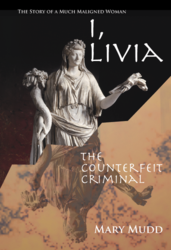 With the publication of I, Livia, Mudd comes forth to set the record straight about this misunderstood historical figure.
WALL, N.J. (Vocus/PRWEB) February 24, 2011
The life of a vilified, misunderstood woman is recounted in a refreshing new light in I, Livia: The Counterfeit Criminal: The Story of a Much Maligned Woman (published by Trafford Publishing), the new historical biography by Mary Mudd.
Livia Augustus, as she was known for the majority of her life, was a Roman empress and the third wife of Emperor Augustus. Popularized in Robert Graves' popular 1934 novel "I, Claudius", the book portrayed Livia as a scheming, malicious murderer. According to Mudd, not only was Livia innocent of the crimes she was accused of; she was an independent-thinking feminist far ahead of her time.
Mother to Emperor Tiberius, the son she bore from a previous marriage to Tiberius Claudius Nero, historians have long claimed that Livia maintained complete control over the Augustus family and would stop at nothing to ensure that her son would assume power one day.
With the publication of I, Livia, Mudd comes forth to set the record straight about this misunderstood historical figure. Livia's role in Roman public life is portrayed as that of as an extraordinarily visible, dynamic and influential political female in a culture which cast women in exclusive roles of childrearing and other domestic endeavors. Livia's criminal reputation is explained and reasons are given for its development and longevity.
Mudd deftly reveals fascinating details about Livia's personal life; her habits, tastes, easygoing attitude and self-deprecating sense of humor. She is also described as a loving, supportive wife and mother, an intellectual with profound political insights and opinions, an enthusiastic traveler and art aficionado. Although usually patient and demure, Mudd readily admits that Livia could also be "impulsive, assertive, opinionated and, especially in later life, petulant."
Final chapters describe how Livia became, and remained, a symbol of Roman imperial power. A brief epilogue describes the physical appearances of Livia and other members of her family. Appendices, a comprehensive bibliography and color images of surviving wall paintings from Livia's homes combine to result in this unprecedented biography that will appeal to those interested in Roman history or notable women in general. Learn who Livia really was in this revelatory new book.
About the Author
Mary Mudd is a medical practitioner credentialing specialist by profession but has always had an interest in studying Roman and Byzantine history. An environmental activist, Mudd is involved in theater and currently resides on the New Jersey shore. She is also the author of Studies in the Reign of Constantius II and is currently at work on a novel about Livia's son, the Emperor Tiberius.
Trafford Publishing was the first company in the world to offer an "on-demand publishing service," and has led the independent publishing revolution since its establishment in 1995. For more information, visit http://www.trafford.com.
EDITORS: For review copies or interview requests, contact:
Marketing Services
Tel: 1-888-232-4444
Fax: 812-961-3133
Email: promotions(at)trafford(dot)com
(When requesting a review copy, please provide a street address.)
###