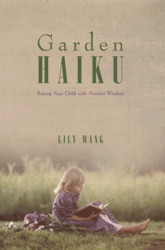 "While we have our children's futures in our hands," she notes, "they also have ours in theirs."
Fresno, Calif. (Vocus/PRWEB) February 24, 2011
Adding a distinctive voice to the subject of child rearing, poet and mom Lily Wang pens Garden Haiku: Raising Your Child with Ancient Wisdom (published by iUniverse), a poetry collection that successfully blends Asian philosophy, the haiku form and parenting advice.
In Garden Haiku, Wang gives parents spiritual guidelines for raising happy, respectful and resourceful children. Using the ancient art of haiku, a form of Japanese poetry, Wang infuses simplicity and wisdom in her character-building principles.
While Garden Haiku addresses parents and writes about young children, it is applicable to all readers. The themes and values are universal: we all grow from childhood to adulthood, and we are all our own best parents.
Wang revives golden virtues with original poetic lucidity to bring Zen to parenting:
Patience is to
Have no expectations
But greater acceptance
Children can devil or angel be—
Put your hands on their backs
The touch of their wings
With elegance and sage-like charm, Wang equates parents with gardeners whose sole purpose is to nurture tender buds into full bloom.
"While we have our children's futures in our hands," she notes, "they also have ours in theirs."
A modern Zen classic, Garden Haiku is every caregiver's poetic manual on the art of parenting.
"Highly recommended" – Midwest Book Review
"Just right for parents." – Kirkus Book Reviews
"Distills magic into 3-line poems celebrating life." – ForeWord Magazine
About the Author
Lily Wang is a Chinese-American poet and the author of GARDEN HAIKU and BABY HAIKU. She received her BA in English from Soochow University in Taipei, Taiwan and earned her M.A. in English from California State University in Fresno. She has done literature coursework worldwide. She and her husband live with their two children in Clovis, California. http://www.lilywang.org.
iUniverse is the leading book marketing, editorial services and supported self-publishing company. For more information, visit http://www.iuniverse.com.
EDITORS: For review copies or interview requests, contact:
Marketing Services
Tel: 800-288-4677
Fax: 812-961-3133
Email: promotions(at)iuniverse(dot)com
(When requesting a review copy, please provide a street address.)
###