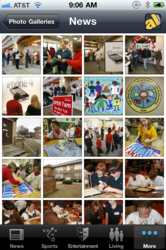 With local breaking news available on al.com around the clock, an app makes it even easier for people to get updates wherever they happen to be
Birmingham, AL (Vocus/PRWEB) February 23, 2011
al.com, Alabama's largest website with 2.8 million unique monthly visitors*, has launched Android, iPhone and iPod Touch apps with real-time local news, sports, entertainment, business, features and opinion articles and photos from The Birmingham News, The Huntsville Times and Press-Register - plus one-tap access to local classifieds listings.
The apps are available for download at no charge in the iTunes App Store and the Android Market. The apps include social features for the audience to share content via Twitter, e-mail and Facebook posts. Users also can submit video and photos from their phones to al.com through the apps.
Content available includes real-time news coverage of local communities throughout Alabama, high school and college sports; entertainment coverage of TV, movies, music and the local arts scene; videos and photos as well as daily obituaries. There's also links to classifieds listings of jobs, new and used autos, and homes for sale and rent.
The front page of the apps can be customized for one-tap access to favorite categories. Articles are downloaded and stored locally in the apps for fast access, even when offline.
"With local breaking news available on al.com around the clock, an app makes it even easier for people to get updates wherever they happen to be," said Cindy Martin, President/CEO of al.com. "iPhone and Android phone users will find the al.com app is a good resource for finding out what's happening at that moment."
Download the al.com Android app from the Android Market here.
Download the al.com iPhone and iPod Touch app from the App Store here.
al.com also has a mobile website that can be accessed by going to al.com on mobile device web browsers. al.com also offers free email and text alerts at al.com/alerts.
*comScore Media Metrix, May 2010
About al.com
al.com, an affiliate of Advance Internet, Inc., is the leading local website for news and information throughout Alabama featuring the latest Alabama news, business, sports, travel, weather, traffic, shopping and entertainment information. In addition, al.com has a comprehensive business listings directory, as well as local classified listings for jobs, homes, apartment rentals and autos. al.com is the online home of The Birmingham News, The Huntsville Times and Press-Register.
About Advance Internet
Advance Internet, Inc., based in Jersey City, NJ, is a leading creator of highly interactive, online community-based news and information websites created in alliance over 25 newspapers affiliated with Advance Publications, Inc. Advance Internet's websites are the number one local news and information online destinations for the markets they serve. The websites include al.com, cleveland.com, gulflive.com, MLive.com, NJ.com, NOLA.com, OregonLive.com, SILive.com, syracuse.com, MassLive.com, PennLive.com, and lehighvalleylive.com.
About Verve Wireless
Verve monetizes local mobile media. Our solutions help local media companies monetize their mobile inventory and enable advertisers to reach a valuable, premium audience where they live, work and play. Over 1000 local publishers use the Verve platform to manage their mobile advertising businesses and help make their sales teams more effective. In addition, we bring incremental revenue to our publishers through our relationships with national advertisers, who value the Verve network's high quality local media companies, including the mobile outlets of recognized local media brands as well as newer digital-only local and hyper-local publishers. It is a brand-safe, editorially-driven, high-quality and transparent environment with market-leading targeting, creative and reporting capabilities. Only Verve has assembled such an extensive national footprint of high quality local media. Verve is located in San Diego, CA and Washington DC. For more information, visit http://www.vervewireless.com.
###