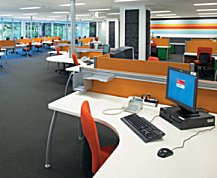 Rather than letting the items age and lose value in the closet, why not sell them to help fund the upgrade? In addition to making money off the old equipment, you regain usable space.
Ann Arbor, MI (Vocus/PRWEB) February 23, 2011
Does your business have a cluttered storage room full of unused or dated items? What if you could take those decommissioned items and turn them into cash? Carol Kamm, Online Resale Specialist with Encore Asset Recovery, a full-service business specializing in residual asset value recovery, is an expert in finding an object's maximum residual value – transforming your unused goods to money in your company's pocket.
1 – Reselling to Recycling
"A piece of business equipment will never be worth more than it is at the moment you unplug it," says Kamm. "When businesses go through upgrade cycles, the replaced units generally go right to the storage room. Rather than letting the items age and lose value in the closet, why not sell them to help fund the upgrade? In addition to making money off the old equipment, you regain usable space."
"Working with Encore to sell used technology equipment is a seamless process and has helped us to easily get value from items we would otherwise store indefinitely. Not only do they have knowledge of the used technology market, they will research more obscure items to help determine the best way to sell them, and come to pick up the items from our location when it comes time to sell them," says Jeff Hagley, System Administrator at a national organization based in Ann Arbor.
2 – Contact Help
"One of the reasons businesses don't take advantage of the monetary value of old items is that it requires extra time and effort. Our specialists here at Encore Asset Recovery take care of all that for you," continues Kamm. "We will transport the items to our location and store them until the sale is completed. Our trained staff is able to analyze and research the best way to sell any item. Additionally, we can take each object and determine the value by comparing it to recently completed sales. With a worldwide online market, consignment sales to other businesses, refurbishers, or individuals are made easier. While your business may be ready to trash outdated items or equipment, businesses around the world that can't afford the latest and greatest may be looking for just that type of equipment."
"Encore has been very instrumental in the liquidation of the remaining equipment [from Pfizer]. Their ability to research and effectively price the items has ensured a high rate of success. I can firmly say I would not have been able to accomplish half of what Encore has done; their market knowledge for online auctions is unparallel and I must commend the team on their professionalism and courtesy," says Shamar Herron of Ann Arbor Spark.
3 – What sells?
"Some of the most popular items in business to business sales today include telephone systems, restaurant equipment, medical and laboratory devices, IT equipment, and anything under the technical banner," says Kamm. "One of our clients turned their old engineering equipment into a return of six figures. Just imagine how much idle money might be accumulating in your business' storage room today."
About Encore Asset Recovery and Carol Kamm: Encore Asset Recovery, LLC helps businesses and individuals find new homes for business equipment, antiques & collectibles, electronics (iPods, cameras, computers, etc.), high-end housewares, jewelry and watches, entertainment memorabilia, musical instruments, event tickets, and much more. Based in Ann Arbor, Michigan, Encore serves all of Lower Michigan and northern Ohio. Encore's offices and retail location (Encore Online Resale) are located at 1958 S. Industrial Highway, in the Colonial Lanes Plaza in Ann Arbor, MI, and can be reached at 734.761.6187 or info(at)encoreassetrecovery(dot)com. Carol Kamm, an eBay Education Consultant, speaks and consults regularly on eBay and the online resale market.
###