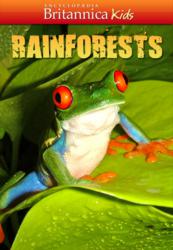 The app is rich in both educational content and fun features that make it good for home, classrooms, even family trips.
Chicago, Ill. (Vocus/PRWEB) February 24, 2011
Millions of species inhabit the world's rainforests, but more than a hundred go extinct every week. Anyone who wants to learn more about these remarkable ecosystems and their plight can do it easily and enjoyably with a new interactive multimedia app from Encyclopaedia Britannica.
Rainforests, the company's newest app for the iPhone, iPad and iPod Touch, lets kids explore those lush, tropical areas of the world – vital to the ecology of the planet – with a combination of games, puzzles, photo quizzes and high-quality information from Britannica's expert editors.
The app is designed for students ages 8-14, though children as young as four can enjoy and learn with adult guidance.
The program is essentially several apps in one. Features include:

Interactive games, including a photographic memory-match, virtual jigsaw puzzles, photo "brush-offs," and magic-square puzzles;
Videos and stunning photography;
Insightful and accurate articles on indigenous rainforest animals, from anaconda to toucan;
Hands-on maps showing where rainforests are located (some may be closer to home than you think);
Quizzes that test one's knowledge.
Rainforests has an innovative navigation wheel at the bottom of the screen that makes browsing through all the features easy. Users can also share their app progress on Facebook and Twitter.
An early review in The Guardian's Apps Blog praised Rainforests and suggested that in a space "cluttered" with programs for kids, the Britannica name "will be reassuring for parents."
"Rainforests are vital to the survival of life on Earth, and it's important for the leaders of tomorrow to understand them and their current plight," said Dale Hoiberg, editor-in-chief at Encyclopaedia Britannica, Inc. "This app gives parents and teachers a great way to teach those lessons. It's rich in both educational content and fun features that make it good for home, classrooms, even family trips."
Rainforests is the latest addition to the Britannica Kids series of apps introduced by Britannica last fall. Others include Dinosaurs, Solar System, Ancient Egypt and Volcanoes. The series gives children in the middle grades engaging new ways to learn using the digital devices they prefer. Working with its development partner, Concentric Sky, Britannica plans to add additional titles in the months ahead.
Rainforests is available for download for $4.99 US from iTunes or the Apple Apps Store.
About Encyclopaedia Britannica
Encyclopaedia Britannica, Inc. is a leader in education publishing whose products can be found in many media, from the Internet to wireless devices to books. A pioneer in electronic publishing since the early 1980s, the company markets a variety of curriculum products for schools, language-study courses, online learning services, encyclopedias and other reference works, and language products through its Merriam-Webster subsidiary. Many of them are available at http://www.britannicastore.com. Britannica is also active on Twitter and Facebook. The company makes its headquarters in Chicago.
About Concentric Sky
Concentric Sky offers high-end web development and consulting services with a focus on emerging technologies such as Social Media and the iPhone. Founded in 2005, the company has rapidly become a leader in the space, recently signing an exclusive development partnership with social media pioneer Mashable.com. Concentric Sky is based in Eugene, Oregon and consists of about 50 software engineers and technical professionals. For more information: http://www.concentricsky.com.
Note: A limited number of free-access codes are available for journalists interested in reviewing Rainforests. They'll be given out on first come, first served basis. Images are available for downloading.
# # #