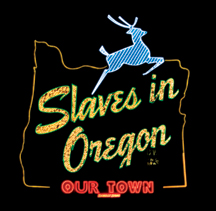 Newberg, OR (Vocus/PRWEB) February 24, 2011
What can be done to bring awareness and offer solutions concerning the sex trade industry? George Fox University will host an event in March, the New Abolitionists Week, that addresses the issue of sex slavery at both the local and international levels.
The public is invited to attend all of the events free of charge.
The event begins Monday, March 7, with keynote speaker Tom Davis from Children's HopeChest, a Christian-advocacy organization dedicated to providing holistic support for orphans in more than 70 locations worldwide, speaking during chapel at 10:40 a.m. in Bauman Auditorium on the school's Newberg, Ore., campus.
The group also will set up an Orphan Experience, an interactive, multi-sensory art exhibit that draws viewers into the stories of orphans by displaying media presentations as well as artifacts, such as clothing or food, that are taken from HopeChest's program sites.
A short film, "Kavi," will be shown during chapel that day. "Kavi," a 2010 Academy Award nominee for Best Live Action Short Film, is a fictional story highlighting the issue of modern slavery through bonded labor.
On Tuesday, March 8, the film "Born into Brothels" will be shown at 9 p.m. in the Edwards-Holman Science Center's Room 102. Directed by Ross Kauffman and Zana Briski, "Born into Brothels" won an Academy Award for Best Documentary Feature in 2005. The movie depicts the lives of several children living in the red light district of Calcutta, where their mothers are prostitutes. Briski, a New York-based photographer, teaches the children how to use cameras and shows them how to look at the world with different eyes.
On Wednesday, March 9, Stephanie Mathis will speak during chapel at 10:40 a.m. in Bauman Auditorium. Mathis is the spiritual formation director at Warner Pacific College and an activist for the Oregon Center for Christian Values, which educates Christians on social issues and works to stop sex trafficking in Oregon and around the world.
More than 1,200 children from around the U.S. have been rescued from sex slavery since the implementation of the Innocence Lost National Initiative in 2003, a joint effort of the FBI, the National Center for Missing and Exploited Children and the Department of Justice Child Exploitation and Obscenity Section, aimed at addressing the problem of domestic sex trafficking of children in the U.S.
Portland has previously been ranked by the FBI as having the second-highest standing in the country for sex trafficking, with more than 50 percent of those victims being children.
The conference aligns with the university's mission, which calls for its educational community to "think with clarity, act with integrity and serve with passion." The university offers a Christian ministries major and a biblical studies major among its 40-plus undergraduate majors.
To learn more about the events planned, contact Kayin Griffith, spiritual life coordinator at George Fox, at 503-554-2320.
George Fox University is ranked by Forbes as the top Christian college in the Pacific Northwest and among the top three Christian colleges in the country. George Fox is the only Christian university in the Pacific Northwest classified by U.S. News & World Report as a first tier national university. More than 3,400 students attend classes on the university's campus in Newberg, Ore., and at teaching centers in Portland, Salem, and Redmond, Ore., and Boise, Idaho. George Fox offers bachelor's degrees in more than 40 majors, degree-completion programs for working adults, five seminary degrees, and 11 master's and doctoral degrees.
Contact:
Kayin Griffith
Spiritual Life Coordinator
503-554-2320
kgriffith(at)georgefox(dot)edu
###