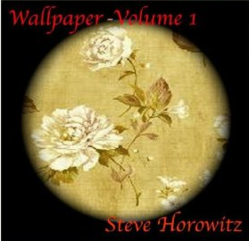 Los Angeles, CA (Vocus/PRWEB) February 24, 2011
As music grows around us in delivery, form, texture and instrumentation, one composer stands out with a transcendent approach to songwriting - Steve Horowitz. These new releases have compiled a mind melting 20-year retrospective, featuring his enlightened and insane instrumental output. The two albums, entitled "Wallpaper Volumes 1 & 2 (20 Years of Pure Instrumental Magic)," are available digitally everywhere, with physical CDs available only on Amazon.
Horowitz is best known for his work on such high profile projects as the soundtrack to the Academy Award-nominated film "Super Size Me," MTV's "I BET YOU WILL, " as well as hundreds of game soundtracks for Nickelodeon's most beloved characters such as Sponge Bob, Dora the Explorer and Jimmy Neutron. Horowitz also won a Grammy Award for "Best Bluegrass Album" in recognition for his engineering work on the multi-artist release, "True Life Blues: The Songs of Bill Monroe [Sugar Hill]."
For over a decade, Horowitz has recorded and toured with his electro-acoustic ensemble The Code International, which has released sixteen albums to date. Steve's list of musical co-conspirators is vast and includes a bunch of well known names like; guitarists Henry Kaiser and Steve Kirk, horn players Lenny Pickett, Glen Spearman and Dan Plonsey, Cellist Matt Brubeck, and drummers Michael Evans and Jim Bove, just to name a few.
Horowitz's latest album set, "Wallpaper Volumes 1 & 2 (20 Years of Pure Instrumental Magic)," is a kooky, crazy, wacky and wild compendium that will tantalize and delight your ear buds. Horowitz's composition style brings a unique sound to each track, creating eclectic masterpieces that showcase his musical influences across genres.
The Instrumentation on the recordings range from rock arrangements to jazz and orchestral ensembles, and even includes bizarre sounds effects like chickens heard clucking on the track "Oh Chicken." He also incorporates many other effects, including voices making clad remarks, short extracts from familiar films and TV shows, and even farmyard sounds. "Wider Shade of Plaid" and "Strewnbuggy" use such exaggerated sounds, layered together to create a visual effect in your mind. Shorter tracks are also added to the collection, creating an avant-garde sound. "Strange Birds," for example, uses saxophone notes to mimic a birdcall.
While both albums are chock full of digital instrumentation, Horowitz also incorporates live musicians throughout, delivering boast-worthy bass lines that hold the foundation of many tracks.
The albums "Wallpaper Volumes 1 & 2" are an insane and proud addition to Horowitz's vast collection of works. This soundtrack for life is an escape from reality through vivid sound. Full of sharp turns, smooth riffs, and bumpy beats, listening is like a trip to the amusement park in your mind.
For more information please contact:
The Code International
(917) 251-1349
fluffy(at)thecodeinternational(dot)com
Media Contact
Bill Lessard
PRwithBrains
(914) 476-6089 (office)
wlessard(at)prwithbrains(dot)com
Come join in the fun at the CD release performance live at the White Box Gallery in New York City, Saturday night April 2nd, 2011
For more information on Steve Horowitz, visit http://www.thecodeinternational.com.
To preview the albums on iTunes, please see:
Wallpaper, Volume 1
To purchase physical albums on Amazon, please see:
###