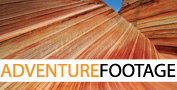 "Who says humans weren't meant to fly?" commented CEO Dan Baron. "The new Aerial Sports HD stock footage category is sure to make the thrill seeker within you want to fly!"
Monterey, CA (Vocus/PRWEB) February 24, 2011
Footage Search announces the release of the new Aerial Sports HD collection through the new stock footage portal, AdventureFootage. AdventureFootage launched in November 2010 through a partnership with Wink Inc. of Jackson Hole, Wyoming and Denver, Colorado. The AdventureFootage portal includes the Wink Inc. collection, and footage from additional suppliers.
Browse the new Aerial Sports HD collection, featuring everything airborne from planes to helicopters and hot air balloons, to human bodies streaking landward in wing suits at terminal velocity. View these daredevils as they take the leap from heights unknown.
"Who says humans weren't meant to fly?" commented CEO Dan Baron. "The new Aerial Sports HD stock footage category is sure to make the thrill seeker within you want to fly!"
The AdventureFootage stock footage collection offers a unique blend of extreme, professional, and cross-cultural recreational activities that span the globe. The website now offers more than 15,000 clips online and will grow steadily with new submissions.
About Footage Search
Footage Search Inc., founded in 2002, is the leader in nature, wildlife and adventure stock footage, supplying premium content to production houses worldwide through the OceanFootage, NatureFootage, and AdventureFootage web sites. OceanFootage is the largest online collection of ocean stock footage in the world, representing over 250 leading cinematographers worldwide. NatureFootage is a comprehensive collection covering all aspects of the natural world. AdventureFootage now offers complimentary content of people and their adventurous activities.
The exhilarating AdventureFootage portal promises unique footage of daredevil action sports, including: heli-skiing, snowboarding, B.A.S.E. jumping, surfing, Freestyle Motocross (FMX), BMX, kayaking and many others. The collection features extreme sports videoof all types and adventure travel footage from the far corners of the globe.
Footage Search is also a leading innovator in media management and distribution technology design and implementation. Footage Search offers stock footage suppliers custom-branded stock footage web sites with the online technology for stock footage asset management, research and licensing.
For more information about Footage Search, images, interviews, or additional background information, please contact Donna Kaufman at 1-831-375-2313.
###