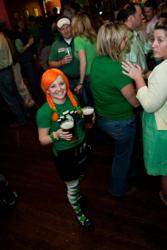 Fado is once again throwing the biggest Paddys Day bash in Annapolis, it'll be a week of savage craic.
Annapolis, MD (Vocus/PRWEB) February 25, 2011
Fadó Irish Pub and Restaurant, located at one West Street in the new Park Place is once again throwing the biggest St Patrick's Day bash, beginning on Thursday, March 10 and carrying on through Thursday, March 17 for a "Week of Savage Craic.". Craic (pronounced crack) is a common term used in Ireland to describe fun, entertainment, and enjoyable conversation with good friends. Savage craic means an epic party and is the theme of this year's celebration. The "Week of Savage Craic" will close with an outdoor festival on St. Patrick's Day where Fadó features the best mix of Irish music, food and entertainment in the city.
Monday, March 7th
Guinness Perfect Pint Competition. Sign up at the pub. Get yourself to the bar at 8p, competition starts at 9p. Good craic for a good cause. This is a great opportunity to help support a great cause!
St. Baldrick's Children Cancer Fundraiser.
Friday, March 11th
Live Music with Shannon's Tide! St. Patrick's Day is only days away and Fadó is kicking off the weekend and the St. Paddy's Day celebrations with a concert series featuring Shannon Tide at 10:30pm
Saturday, March 12th
Its European sports day at Fadó! Don't miss the best of the 6 nations teams compete! We've got your 6 Nations Rugby with England vs Italy at 9:30a and Scotland v Wales at 12:30p. Party like you're Irish! Stay up and get down late night with DJ Ray!
Sunday, March 13th - St. Baldricks Children's Cancer Fundraiser
The week of St. Patrick's Day means all party, no rest so get prepared. Start your day off in Annapolis at Fadó the Irish way – grab a pint of Guinness at the bar and a traditional Irish breakfast. This year's St. Baldricks Charity event kicks off at 3p. Come down for this great cause and either get your head shaved, help someone else reach their fundraising goals, or just join in the festivities! Contact the pub to find out how you can participate.
Monday, March 14th
Bushmill's Whiskey Dinner
3 Course Menu of great Irish Traditions paired with Whiskeys from Bushmill's. Come learn why they call Whiskey the Water of Life. RSVP required. Contact the pub for details.
Tuesday, March 15th
Traditional Irish Session with Weems Creek. The party doesn't stop until the jigging does.
Wednesday, March 16th
Brainstormer Pub Quiz! Join us at Fadó Irish Pub in Annapolis for an Irish-themed quiz this week with great prizes up for grabs. Fado Irish Pub in Annapolis hosts the best Pub Quiz in town and St. Patrick's Day pub quiz is an annual event not to be missed. Starts at 8pm. Top prizes!
Thursday, March 17th
St Patrick's Day in Annapolis at Fadó Irish Pub & Restaurant
Fadó opens the bar at 6 a.m. for "Pints and Pancakes". WRNR will broadcast live until 9a. We'll have live music all day starting with Shamrouges from 8am, followed by Hal the Piper, Broisener School of Dance, Rock n Roll Stereo and headlining this year are The Rovers from 10p-close!
Yes, we know you all work hard, so it should be easy enough to convince the boss on this day to take a late lunch and join us for some of the music and dancing. We have a great line up of music to keep you going until the wee hours.
Also, if you serve our communities in Fire, Police, Rescue, or Military, please bring your ID so you can skip the cover.
More information is available at http://www.FadoIrishPub.com/Annapolis/st-patricks-day-2011
Fadó is an authentic Irish pub- it was originally designed and built in Ireland and then shipped to Annapolis. Fadó serves more Guinness than any other Irish pub in Annapolis, all of which is to the highest standards. All of our Guinness comes straight from St James Gate, Dublin, Ireland.
About Fadó Irish Pub and Restaurant
Fadó (pronounced fuh-doe) Irish Pub and Restaurant opened in Annapolis in 2007. Fadó is distinguished by its genuine Irish hospitality, quality and craic (pronounced 'crack', a uniquely Irish form of fun).Fadó has been voted 'Best Of' by a number of local and national publications. Get more information at http://www.FadoIrishPub.com, http://www.facebook.com/FadoAnnapolis, or on Twitter at @FadoAnnapolis
Pictures of Irish food, drink and the pub itself are available upon request. Irish barmen and chefs may be available for interviews and pouring and cooking demonstrations.
###