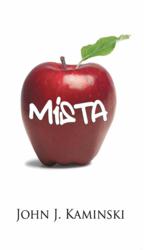 "Education is a very relevant topic in the news," said Kaminski. "I think a story highlighting the many problems in an urban school rings true."
Hillsdale, NJ (Vocus/PRWEB) February 23, 2011
When people met John J. Kaminski and heard of his struggles as a teacher early in his career, the first question often asked was: "Why didn't you quit your job?"
In his new book Mista, (published by AuthorHouse) Kaminski gives readers a frank and honest look at a year teaching students in a "Twilight" program. The Twilight program was designed for students who for one reason or another couldn't make it to school during normal daytime hours.
"Education is a very relevant topic in the news," said Kaminski. "I think a story highlighting the many problems in an urban school rings true."
In the book, readers will meet Kaminski's fellow teachers, Dinesh, Mariella, Rhonda, Faith and Jack along with students G-Black, Iverson, Foolio, Sheniqua, Marvin and Kaminski's most infamous student, known in the book as "Miss D", a terror of a student who in many ways, serves as the villain of the book, through her uncompromising nature, unwillingness to cooperate and a searing and blatant hatred for Kaminski, leading to a confrontation that would affect the rest of Kaminski's year.
In many novels and movies on the market, the teacher finds a way to succeed in getting through to their students. Mista is not that sort of story. In this case, the teacher makes every attempt to succeed, but is stopped in many different ways through circumstance of the actions of others.
Kaminski peppers his recollections with humor and a sobering view of what it's like to teach students who either treat him like the enemy or who barely show up, if at all. He also gives readers just as much insight into the struggles teachers face with administration and amongst each other, giving an overall sense of being stuck between a rock and a hard place.
Mista is essential and entertaining reading, not only for teachers who are either new or well-experienced in some of the stories shared, but for anyone who wants a true insight into the life of a teacher who faces adversity at every turn.
About the Author:
John J. Kaminski has been a high school English teacher for ten years at five different high schools. John received his BA in English from Bucknell University and his MA in English from Rutgers University. He is married and currently teaches in New Jersey. Visit the Mista fan page on Facebook and @johnjkaminski on Twitter.
###