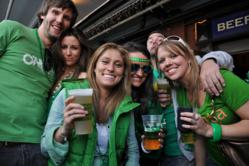 The 2011 St Patrick's Day Live Music Festival will be savage craic!
Columbus, OH (Vocus/PRWEB) February 25, 2011
For the 11th consecutive year, Fadó Irish Pub and Restaurant, located in Easton Town Center at 4022 Townsfair Way, is throwing the premier St Patrick's Day party in Columbus with celebratory events beginning on Sunday, March 13 and carrying on through Thursday, March 17 for a "Week of Savage Craic." Craic (pronounced crack) is a common term used in Ireland to describe fun, entertainment, and enjoyable conversation with good friends. Savage craic means an epic party and is the theme of this year's celebration. The "Week of Savage Craic" will close with a huge outdoor live music festival on St. Patrick's Day where Fadó features the best mix of Irish music, food and entertainment in the city.
Click here to purchase advance tickets!
*If you serve our communities in Fire, Police, Rescue, or Military, please bring your ID so you can skip the cover.
Slainte!
Sunday, March 13th
Join us as Chef Jason pairs creative cuisine with the Jameson family of whiskeys for a Jameson Whiskey Dinner at 5pm to kick off St. Patrick's Day week. Reservations are required. Contact the pub at 614.418.0066 for details.
Monday, March 14th
Special Paddys Day Pub Quiz at 8PM. Quizmaster Grant and Brainstormer team to help you win!
Tuesday, March 15th
Shamrock Club and Daughters of Erin Guest Bartending Event starts at 5PM
The Ladies of Longford—Live award-winning Celtic Music 7PM
Wednesday, March 16th
Join us for our annual Guinness Perfect Pint Pouring Contest at 7PM
With serious bragging rights at stake (and CASH), this competition gives the local pubs a chance to prove who pours the best pints!
Thursday, March 17th ~St Patrick's Day Weekend Live Music Festival
Buy your 2 day or 3 day pass in advance!
The Fadó St. Patrick's Weekend Live Music Festival begins in our huge heated party tent!
Opening for Kegs and Eggs 7AM. No cover 7AM-8AM
Live Music begins with the Evol Twins at 9AM followed by Homeland Celtic Rock at 1PM, Swagg at 5PM and we'll end the night rocking out with The Websters at 9PM
Friday, March 18th
Join the Columbus Young Professionals for their Meet and Greet Happy Hour at 5PM
Live Music kicks off with The Crunch at 5PM as well and then we've got everyone's favorite headliner, The Naked Karate Girls at 9PM
Saturday, March 19th
Six Nations Rugby—Super Saturday. Open early! Visit the Sports listings here.
St Baldrick's Charity Event begins at 1:30PM. Shave your head and help find a cure for childhood cancer. Come down and show your support for a great cause. A week of savage craic at Fadó wouldn't be complete without great music to close out the weekend. We've got Soul Kitch'n at 5:30 PM and we'll wrap up your outdoor festival with The Menus headlining at 9:30PM.
More information is available at http://www.fadoirishpub.com/columbus/st-patricks-day-2011
Fadó is an authentic Irish pub- it was originally designed and built in Ireland and then shipped to Columbus. Fadó serves more Guinness than any other Irish pub in Columbus, all of which is to the highest standards. All of our Guinness comes straight from St James Gate, Dublin, Ireland.
To make it a true St. Patrick's Day in Columbus, Fadó will put special emphasis on proper Irish food and Irish drink. You will always get a perfect pint of Guinness, which is served along with proper Irish coffees, Baileys Irish cream, and Columbus's widest selection of Irish whiskeys. All of our Irish food recipes are prepared from scratch: the traditional Irish Boxty, Corned Beef and Cabbage, and the Irish pub favorite like Fish & Chips. Fadó spares no expense to bring its customers the best Guinness and Irish food in Columbus.
About Fadó Irish Pub and Restaurant
Fadó (pronounced fuh-doe) Irish Pub and Restaurant opened in Columbus in 1999. Fadó is distinguished by its genuine Irish hospitality, quality and craic (pronounced 'crack', a uniquely Irish form of fun).Fadó has been voted 'Best Of' by a number of local and national publications. Get more information at http://www.FadoIrishPub.com, http://www.facebook.com/FadoColumbus, or on Twitter @FadoColumbus
Pictures of Irish food, drink and the pub itself are available upon request. Irish barmen and chefs may be available for interviews and pouring and cooking demonstrations.
###