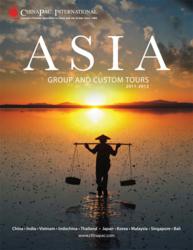 Peruse through the list of China essentials, India explorations, Thailand long-stays, or a combination of Asia travels for your perfect trip
Vancouver, BC (Vocus/PRWEB) February 28, 2011
Chinapac International, premier specialist in China & the Orient since 1985, announces the release of their latest Asia brochure which includes exclusive 2011-2012 tours of China and of the South East Asia.
Packed with information about Chinapac's best guided tours, the new brochure also features many exciting and must-take trips that are offered in the 2011 season through the early part of 2012. Director of Sales and Operations Otis Ashby refer to it as "your first-step guide in planning your perfect Asia trip."
"Peruse through the list of China essentials, India explorations, Thailand long-stays, or a combination of Asia travels for your perfect trip," suggests Ashby, as travelers will easily find the precise day-to-day itinerary for each program in the brochure and the corresponding dates of operations.
"We understand the concerns of choosing the right trip, especially in such an exotic destination as Asia, so we want this brochure to be of utmost help in the process of our travelers' decisions."
The 2011-2012 Asia brochure provides elaborate detail on Chinapac's classic tours. One China tour that has become a traveler's favorite is the 16 Day 5-Star China and Yangtze, a trip to China's prominent cities including a deluxe cruise up the Yangtze, with operation dates running through April 2012.
Most of the tours showcased in the booklet are guaranteed – a substantial number of it being guaranteed with a minimum of just 2 persons. This allows Chinapac travelers the convenience and flexibility when it comes to determining a suitable day of departure for their travels.
As well, the new brochure comes with an introduction of two new exclusive tours: the 19 Day Ladies Only India Tour, where female travelers sojourn to eleven distinct Indian cities for a first-hand experience of its exotic culture, history and spirituality; and, the 16 Day Ethnic Minorities of Guizhou which will take travelers to discover the solitary town of Guiyang for its wondrous terrains and unique tribal villages. Both tours boast an elaborate itinerary that will have its participants immerse in the unique traits and diversity of each destination, and are escorted from Canada.
The new 2011-2012 Asia brochure is available for viewing on the Chinapac website under Online Brochure. For inquiries or to order your copy, you may fill out a request at http://www.chinapac.com or call 1-800-661-8182.
Chinapac International specializes in travel service to China and the Orient and is proud to celebrate 26 successful years in the travel industry as the premier travel package tour operator to the People's Republic of China and South East Asia.
###