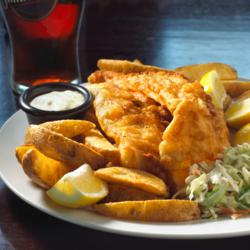 13 great years of savage craic
Washington, DC (Vocus/PRWEB) February 25, 2011
Fadó Irish Pub and Restaurant, located at 808 7th St in Chinatown, is once again throwing the biggest St Paddy's Party with celebratory events beginning on Thursday, March 10 and carrying on through Thursday, March 17 for a "Week of Savage Craic." Craic (pronounced crack) is a common term used in Ireland to describe fun, entertainment, and enjoyable conversation with good friends. Savage craic means an epic party and is the theme of this year's celebration. The "Week of Savage Craic" will close with a huge outdoor festival on St. Patrick's Day where Fadó features the best mix of Irish music, food and entertainment in the city.
Thursday, March 10th
Anniversary Party celebrating 13 glorious years! We'll have White Ford Bronco playing your favorite hits from the 90s. Fadó is rolling back the price of Guinness to 1998 from 9-midnight. The Guinness will be flowing till late!
Friday, March 11th
Live Music with your favorite Celtic bands, Shannon Tide for live music starting at 9:30p.
Saturday, March 12th
St. Baldrick's Charity Event - This year our St. Baldrick's event starts at 3pm 'til 8pm. Shave your head and help find a cure for childhood cancer. Come down and show your support for a great cause. We'll have a silent auction taking place through the afternoon and a live DJ during the event raffling off great prizes.
Sunday, March 13th ~ Parade Day
Head down to the pub after the D.C. St. Patrick's Day Parade. Grab a pint, some lunch and catch our Irish dancers during the afternoon. Later rock out with the Irish band then The Rovers at 2pm. The Rovers have taken the Celtic music scene by storm thanks to an eclectic mix of traditional roots and blazing instrumentals with an amped up rock twist.
Monday, March 14th
Annual St. Patrick's Day Pub Quiz.
Powered by Brainstormer, the questions will be tough, the prizes with be top and the craic will be mighty!
Tuesday, March 15th and Wednesday, March 16th
Irish Supper Classics: get a piece of Ireland before the crowds. We'll focus on traditional Irish items and pair them with various beers and whiskeys for a supper you'll that will leave you completely satisfied and prepare you for a day of Savage Craic!
Thursday, March 17th ~ St. Patrick's Day
There's no better way to kick off your St Patrick's Day than with a pint of the black stuff and an afternoon of live music with Celtic rock band, 40 Thieves kicking things off at 3pm We'll entertain you with Irish dancers throughout the afternoon and close out the night with Llyod Dobbler Effect headlining at 9p.
More information is available at http://www.FadoIrishpPub.com/washington/st-patricks-day-2011. Follow us at @fadodc Or join the conversation on Facebook. Call the pub at 202-789-0066 or pop in for more information!
Fadó is an authentic Irish pub- it was originally designed and built in Ireland and then shipped to Washington DC. Fadó serves more Guinness than any other Irish pub in Washington DC, all of which is to the highest standards. All of our Guinness comes straight from St James Gate, Dublin, Ireland.
To make it a true St. Patrick's Day in Washington DC, Fadó will put special emphasis on proper Irish food and Irish drink like proper Irish coffees, Baileys Irish cream, and DC's widest selection of Irish whiskeys. All of our Irish food recipes are prepared from scratch: the traditional Irish Boxty, Corned Beef and Cabbage, and the Irish pub favorite like Fish & Chips. Fadó spares no expense to bring its customers the best Guinness and Irish food in Washington DC.
About Fadó Irish Pub and Restaurant
Fadó (pronounced fuh-doe) Irish Pub and Restaurant opened in Washington DC in 1998. Fadó is distinguished by its genuine Irish hospitality, quality and craic (pronounced 'crack', a uniquely Irish form of fun).Fadó has been voted 'Best Of' by a number of local and national publications. Get more information at http://www.FadoIrishPub.com/washington/events, http://www.facebook.com/FadoDC, or on Twitter @FadoDC
Pictures of Irish food, drink and the pub itself are available upon request. Irish barmen and chefs may be available for interviews and pouring and cooking demonstrations.
# # #