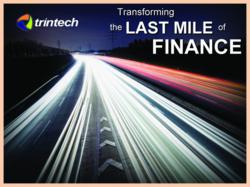 "These results underscore AssureNET GL's ability to operate in a single instance, for even the largest global companies"

George Santillan, Trintech Vice President of Engineering
Dallas, TX and Dublin, Ireland (Vocus/PRWEB) February 24, 2011
Trintech, a leading global provider of integrated software solutions for the Last Mile of Finance, announced today the results of high-performance stress tests on its AssureNET GL account reconciliation software, part of Trintech's Unity Suite of automated solutions.
In benchmarking tests overseen by Trintech's Six Sigma certified professional services team, AssureNET GL proved capable of supporting over 1,000,000 general ledger accounts and nearly 1,800 concurrent users with varying job functions, each managing large quantities of records.
"Many of our enterprise clients mix bulk-oriented user operations with more traditional, interactive General Ledger reconciliation, review, and approval processes in fairly innovative ways," said George Santillan, Trintech's Vice President of Engineering. "These benchmarking tests proved that AssureNET GL is capable of supporting more than 1,000,000 general ledger accounts, a scalable user load of almost 1,800 concurrent users, with individual users processing a total of more than 300,000 records in well under an hour. These results underscore AssureNET GL's ability to operate in a single instance – for even the largest global companies – and further extend Trintech's technical leadership in supporting enterprise requirements for scalability, security, and functionality."
Trintech's AssureNET GL module automates account reconciliations, and manages the review, approval and certification of all general ledger accounts for a company's accounting close process. AssureNET GL distributes account assignments, automates preparation, streamlines the review & approval process for certifications, enforces control structures, and facilitates creation of compliance documentation.
"Trintech is committed to accelerating our product innovation in the financial governance space," said Trintech CEO Paul Byrne. "Our new high-performance testing lab is just one of the tangible investments we're making in order to realize this success. I'm pleased that our Engineering and Professional Services teams continue to demonstrate the functional and technological advantages of the Unity Suite to our global client base."
About Trintech:
Trintech is the leading global provider of integrated software solutions for the Last Mile of Finance. From the time a transaction occurs to the time financial statements are issued, Trintech's innovative Unity Suite automates data collection, account reconciliation, financial close management, financial reporting, XBRL, and financial control testing. As a result, our 600 clients and 100,000 users worldwide benefit from an enterprise wide view into critical financial processes, and are able to increase efficiency, improve visibility, shorten cycle times, lower costs, and reduce risk.
Trintech clients include 50% of the Fortune 50 and nearly 25% of the Fortune 500 representing retailers, manufacturers, financial institutions and healthcare providers in the United States, the United Kingdom, the Republic of Ireland, Europe, and Australia. Trintech clients include Intel, Google, Microsoft, RR Donnelly, Regis Corporation, Walmart, O2, Blackstone, Lloyds TSB and Toyota Financial Services.
Spectrum Equity Investors acquired Trintech in a take-private transaction in December, 2010.
For more information on how Trintech can help you transform your Last Mile of Finance, please contact us online at http://www.trintech.com or at our principal business office in Dallas, Texas, or through an international office in Ireland, the United Kingdom, or the Netherlands.
Trintech • 15851 Dallas Parkway, Suite 900 • Addison, TX 75001 • Tel 1 972 701 9802
Trintech UK, Ltd. • 2nd Floor • 4-6 Throgmorton Avenue • London EC2N 2DL• Tel: +44 (0) 20 7628 5235
Tel: +44 (0) 20 7628 5235 • EMEA Support +44 (0) 8706 260729 • Fax: +44 (0) 20 7638 5934
Trintech Technologies Limited • Suite 13B, Classon House, Dundrum Business Park • Dublin 14, Ireland • Tel +353 1 298 4472
Trintech • Cypresbaan 9 • 2908 LT Capelle a/d Ijssel, The Netherlands • Tel +31 (0) 10 8507 474
###