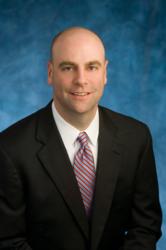 That Damon Hininger would appear in such a high-profile round-up . . . says volumes about his progress and promise.
Nashville, Tenn. (Vocus/PRWEB) February 24, 2011
CCA CEO and President Damon Hininger has been named among America's "20 Most Powerful CEOs Age 40 or Under" by Forbes Magazine. The list features the nation's leading group of young top executives of the country's biggest publicly traded companies by market capitalization, as of Feb. 11, 2011.
Leaders included on the list hail from various industries, including travel, technology, automotive, apparel, health care, real estate, finance and banking. The 40-year-old Hininger is listed as representing the property management industry, as CCA designs, builds and constructs new prisons, jails and detention centers in partnership with government, with a market cap of approximately $3 billion.
The company, founded in 1983, established the concept of public-private partnership in corrections and today manages a population of approximately 80,000 inmates and detainees on behalf of federal, state and local agencies in the District of Columbia and 19 states.
"That Damon Hininger would appear in such a high-profile round-up of America's leading decision-makers to watch says volumes about his progress and promise," said John Ferguson, Chairman of CCA's Board of Directors. "CCA's inclusion also speaks to the increasing value and prominence of correctional partnerships. This is a proven, vital strategy for government in managing inmates and detainees amid challenging and changing times."
Hininger joined CCA's Leavenworth Detention Center in Leavenworth, Kan., in 1991 after graduating from Kansas State University. The Kansas native began his career as a correctional officer there and was promoted to training manager at CCA's Central Arizona Detention Center in Florence, Ariz., two years later.
In 1995, Hininger joined CCA's Nashville, Tenn.-based headquarters, the Facility Support Center, where he served as vice president of business analysis, director of strategic planning, director of proposal development and senior vice president, Federal and Local Customer Relations before being named president and chief operating officer in 2008. In August 2009, Hininger was named CCA president and CEO, as successor to John Ferguson, who had served in the role since 2000.
"Having served as CEO of this company for more than a year now, I remain excited and optimistic about the new and existing opportunities for CCA," Hininger said. "For nearly 30 years, we have provided responsive, cost-effective, innovative and humane solutions on behalf of government. We are poised to continue doing so, as we readily meet the needs and demands of correctional agencies and communities in providing one of our nation's most important public services."
Hininger also earned a master's degree in business administration from the Jack Massey School of Business at Belmont University.
About CCA
CCA is the nation's largest provider of partnership corrections to federal, state and local government, operating more than 60 facilities, including more than 40 company-owned facilities, with approximately 90,000 beds, in 19 states and the District of Columbia. In addition to providing the residential services for inmates, CCA facilities offer rehabilitation and educational programs, including education, vocation, religious services, life skills and employment training and substance abuse treatment. For more, visit http://www.cca.com and http://www.ccacommunities.com.
# # #