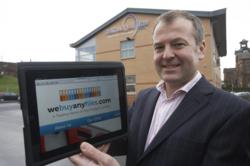 "We've got dynamic plans to grow our business and we've got funds to spend. We're interested in acquiring other practices outright or in taking on cases or caseloads from other solicitors who don't have our level of expertise and want to refer them on."
(Vocus/PRWEB) 24 February 2011
Solicitors Neil Hudgell Law have launched a new business initiative http://www.webuyanyfiles.com as part of the firm's plans for major expansion.
Neil Hudgell Law are "no win no fee" solicitors specialising in personal injury, medical accident and professional negligence. They are also experts in claims for dental negligence.
The firm, which employs more than 50 people, currently has three offices – two in Hull and one, opened last year, in Leeds. It's now looking to grow its business further and wants to buy other personal injury practices, case loads or individual cases. The expansion could lead to the recruitment of more staff.
Neil Hudgell said: "Our success so far is down to us specialising in what we excel at – personal injury, medical accident and professional negligence. We place enormous emphasis on customer service and good case management to make the claims process as speedy and efficient as possible.
"Importantly, our business model has been developed to work with the big changes that are happening right now in the legal profession. However, we know other firms are struggling. That's why we've launched "We buy any files".
"We've got dynamic plans to grow our business and we've got funds to spend. We're interested in acquiring other practices outright or in taking on cases or caseloads from other solicitors who don't have our level of expertise and want to refer them on."
Neil Hudgell Law's plans for growth come at a time of change in the legal profession. In October, the provision of legal services in England and Wales is set to alter radically with the introduction of Alternative Business Structures– ABS. This will mean that the ownership of legal service providers, currently restricted to lawyers, will be open to anyone deemed "fit or proper". This could be an insurance company or a supermarket which is why the changes have been dubbed "Tesco Law".
In addition, the full impact of the recommendations put forward by Lord Justice Jackson in his report on Civil Litigation Costs is still being assessed across the legal industry.
Neil Hudgell said: "All this change is causing many solicitors, who may have been in the profession for some time, to feel very worried. We're interested in hearing from lawyers who are looking to retire from practice or from those who are looking to free up working capital.
"Taking on more cases will also mean we'll need more staff so we're looking to recruit personal injury lawyers who want to further their careers."
For more information go to http://www.webuyanyfiles.com.
# # #