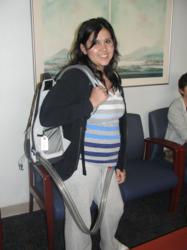 It was so exciting to go home and be with my baby, I feel really good now and I can take care of my son.
Tucson, AZ (Vocus/PRWEB) February 24, 2011
On Jan. 20, Marcela Padilla, 21, became the first woman and the fifth person in the U.S. to leave the hospital using the Freedom® portable driver to power her SynCardia temporary Total Artificial Heart. The Tucson mom was discharged from University Medical Center (UMC) just in time to celebrate her 21st birthday at home with her husband and 9-month-old son Santiago.
"It was so exciting to go home and be with my baby," Padilla said. "I feel really good now and I can take care of my son."
Padilla is participating in an FDA-approved Investigational Device Exemption (IDE) clinical study of the Freedom driver, the first U.S. portable driver designed to power SynCardia's Total Artificial Heart both inside and outside the hospital. Currently, the only FDA-approved driver for powering the Total Artificial Heart is the 418-lb "Big Blue" hospital driver, which confines patients to the hospital until they receive a heart transplant.
"It's a win on multiple levels," said Dr. M. Cristina Smith, director of Heart Transplant and Ventricular Assist Device Services at UMC. "[The Freedom driver] gives the patient the opportunity to be home surrounded by loved ones. The hospital and the health system also win. You don't have someone stuck in a hospital bed. The cost savings to the health care system is going to be pretty significant."
Padilla gave birth to her son on April 25, 2010, but four days later, began to experience shortness of breath and fatigue. The pregnancy may have strained her heart, which was already weak due to a congenital condition, and she was diagnosed with cardiomyopathy. Her twin sister had received a heart transplant at age 11.
Padilla was implanted with the Total Artificial Heart on Sept. 24, 2010. Once stable, she was switched from the Big Blue driver to the Freedom portable driver. She and her family completed extensive training on use of the Freedom driver and in January, she was ready to leave the hospital to wait for a matching donor heart at home.
"We're so excited we are able to provide this first time opportunity to such a wonderful young mom and her family," Dr. Smith said. "It's just heart-warming."
About SynCardia Systems, Inc.
SynCardia Systems, Inc. is the Tucson-based manufacturer of the world's only FDA, Health Canada and CE approved Total Artificial Heart: the SynCardia temporary Total Artificial Heart. There have been more than 900 implants of the Total Artificial Heart, accounting for more than 210 patient years of life on the device.
Originally used as a permanent replacement heart, the Total Artificial Heart is currently approved as a bridge to human heart transplant for people dying from end-stage biventricular failure. The Total Artificial Heart is the only device that provides immediate, safe blood flow of up to 9.5 L/min through both ventricles.
For additional information, please visit: http://www.syncardia.com
or follow SynCardia on Twitter – @SynCardia_News
# # #