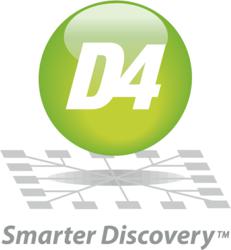 I am very excited to be joining such a cutting edge, forward thinking organization like D4.
Rochester, NY (Vocus/PRWEB) February 24, 2011
D4, LLC, the national leader in delivering end-to-end eDiscovery services, today announced its expansion into the Michigan market with the opening of its Grand Rapids location. Litigation Support and eDiscovery veteran, Kevin Pursley has been appointed as the Managing Director for this office. "We're excited to have the opportunity to serve Grand Rapids and the entire Michigan market" says John Holland, Chief Executive Officer of D4. "We're confident that our professional, defensible and cost effective solutions will establish D4 as the premier provider of litigation and ESI related services in the state."
Kevin, a Michigan native, has partnered with every major law firm in the West Michigan area, in addition to many firms in the Lansing and Detroit markets. "I am very excited to be joining such a cutting edge, forward thinking organization like D4. I look forward to bringing the Smarter Discovery™ approach and services to our clients in Michigan." David Lapresi, Sr. Vice President of D4 states, "D4 gains a huge asset having Kevin on board with our team." He adds, "His breadth of experience includes work for state and federal agencies, which opens a window of opportunity to delve deeper into these markets."
Kevin graduated from Georgia Southern University with a Business degree. Prior to joining D4, Kevin co-founded and was Managing Partner of Action Legal Document Services/Ivize in July 2003. Kevin can be reached in the Grand Rapids office at 616-648-2672.
About D4, LLC
D4, LLC is a national leader in providing litigation support and ediscovery services to law firms and corporate law departments. D4 covers the spectrum of the Electronic Discovery Reference Model (EDRM), from identification and preservation of data through forensic and targeted onsite data collection; from data analytics and defensible search methodology through hosted review and production services. D4 assists attorneys in litigation response planning, strategies for negotiation of scope and meet-and-confer, computer forensics, expert testimony, and approaches to cost reduction in litigation support projects and in corporate law department operations. For its rock-solid and highly-scalable performance in hosted review and its outstanding service to clients, D4 was named by kCura as "Relativity Best in Service". D4 is also a certified reseller of Relativity by kCura as well as Legal Hold Pro by Zapproved.
Founded in 1997 and through its combination and rebranding with Doculegal, D4 has grown to a national presence. With nearly 100 staff, D4 offers full-service locations in Rochester, Buffalo, Tampa, Lincoln, Omaha, New York City, Grand Rapids, and San Jose. D4 fields consultants and project managers from Los Angeles, Colorado, Rhode Island, Michigan, and Washington DC. State-of-the-art data center operations in Rochester are complemented by electronic discovery and litigation support paper document services throughout the United States. In 2010, D4 was recognized in the "Top Five" of the "Rochester Top 100", honoring the fastest growing companies in Western New York.
About Smarter Discovery™
Smarter Discovery™ is about leveraging today's best technologies to one's advantage, while bringing clarity to e-Discovery cases and avoiding a deluge of irrelevant data and excessive costs. It is working with a partner who will exceed your expectations on every project and bring true expertise to the table.
# # #