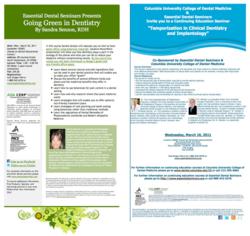 The partnership with Columbia University will provide a greater curriculum!
South Hackensack, NJ (Vocus/PRWEB) February 25, 2011
Essential Dental Seminars, the award winning dental CE provider, has just announced additions to its 2011 schedule of courses at its state-of-the-art Hands-On Dental Education Facility (HODEC) in South Hackensack, NJ. These new additions to HODEC's already expansive course offerings were added to reach audiences seeking different aspects of excellence in dental education.
In partnership with Columbia University College of Dental Medicine, on March 16, 2011, Dr. James Fine and Dr. Mark Docktor, both leaders in the field of temporization will be giving a course at HODEC. The course "Temporization in Clinical Dentistry and Implantology" will teach dentists the most current techniques in temporization. Both lecturers are in private practice in the tri-state area and are published authors on this subject matter.
On March 20, 2011, Essential Dental Seminars will be offering a course for both dentists and hygienists entitled "Going Green in Dental Hygiene." Taught by leading dental hygienist Sandra Senzon, RDH, this course will instruct attendees on several affordable, practical, and clinically efficient ways that they can implement the 'going green' movement into their practice.
To register for 2011 dates and to receive special discounted pricing, contact Victoria Reina, CE Administrator at (888) 542-6376 or register online at http://www.essentialseminars.org
About Essential Dental Seminars:
Essential Dental Seminars holds award winning dental CE courses across the US and abroad. Courses are taught by leading clinicians and dental experts in a variety of disciplines of dentistry. Some recent topics include aesthetic whitening and endodontics. Essential Dental Seminars is the proud recipient of the Dentist's Guide for Excellence in Continuing Education Award.
###