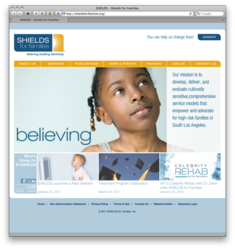 Los Angeles, CA (Vocus/PRWEB) February 24, 2011
SHIELDS for Families (SHIELDS) has announced the launch of its new website - shieldsforfamilies.org - designed to provide visitors access to up-to-the-minute information about the organization, its programs and services. The state-of-the-art platform, developed by QuantumMethod, is the nonprofit community's crown jewel of websites and functional technology. The new site features a purposeful user interface, user-friendly navigation, and detailed descriptions of all SHIELDS programs -- all powered by an integrated backbone that includes systems like CRM software, CMS layer, traffic analytics, social media integration, and online donations.
"We are so pleased to unveil our new website," says Kathy Icenhower, executive director and co-founder of SHIELDS. "It truly reflects the depth and breadth of our services to the community. We are all excited to use this new communication platform to better inform the community about our programs and services and to gain more support for our children and families."
The new website is just one of the many aspects to the organizations re-branding and renewed outreach effort, which began to roll-out early last year with the introduction of a new logo, only the second in the organization's 20-year history. "SHIELDS is such a critical public service provider in the Southern California area that we felt an incredible sense of responsibility when given the task to help re-brand the organization," says George Tierney, COO and creative director, QuantumMethod. "This new website, and integrated systems, will give SHIELDS the ability to leverage the digital media universe to further perpetuate the important services it provides the people it serves."
About SHIELDS for Families
For 20 years, SHIELDS has helped vulnerable children and families succeed. SHIELDS is a nationally and internationally recognized organization that offers award-winning programs in Los Angeles' most challenged communities. SHIELDS develops, delivers, and evaluates culturally sensitive, comprehensive service models that empower and advocate for high-risk families. The organization serves more than 5,000 families each year, employing more than 320 full-time staff, with an annual budget of more than $21 million. SHIELDS operates 30 programs for substance abuse, child welfare, mental health, children and youth, and support services, and serves as the lead agency in four collaborative networks. Please visit http://www.shieldsforfamilies.org for more information and join their networks online at:
Blog: http://shieldsforfamilies.blogspot.com
Twitter: http://twitter.com/SHIELDS4Family
LinkedIn: http://linkedin.com/company/shields-for-families
About QuantumMethod
QuantumMethod (QM) is a single source multi-media branding and communications company. QM develops and renovates brands - determines efficient ways to reach the target audience - and executes all forms of communications and creative. QM's Nonprofit and Grantmaker practice brings to bear more than a century of experience with finely tuned skills in fund development, strategic planning, marketing, and communications. We apply our expertise to help nonprofits clearly communicate their mission, and attract the resources that make it succeed.
Website: http://www.quantummethod.com
Blog: http://www.qclips.net
Facebook: http://www.facebook.com/quantummethod
Twitter: http://www.twitter.com/quantummethod
LinkedIn: http://www.linkedin.com/quantummethod
###