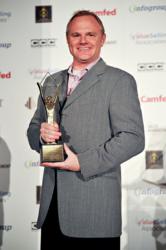 Bill is a strategically-driven, world-class sales and business leader, who has played a central role in driving Marketo's growing success.
San Mateo, CA (Vocus/PRWEB) February 24, 2011
Marketo, the world's fastest growing provider of Revenue Performance Management solutions, today announced that its Senior Vice President of Sales, Bill Binch, was presented with a Stevie® Award in the Worldwide VP of Sales of the Year category at the fifth annual Stevie Awards for Sales & Customer Service at the Eden Roc Renaissance Hotel in Miami Beach on February 21st.
As the leader of Marketo's sales team, Binch is a key architect of the company's rapid sales growth. Under Binch's leadership, Marketo experienced growth from 200 customers in July 2009 to over 900 customers to date. In addition, Marketo increased the average sales price from $18K ARR to $34K ARR, grew the sales team from a staff of 4 people to nearly 30, and helped the company earn a spot on Gartner's magic quadrant after only 1 year in business.
"We are extremely proud to have Bill recognized as Worldwide VP of Sales of the Year at the recent Stevie Awards," said Phil Fernandez, president and CEO, Marketo. "Bill is a strategically-driven, world-class sales and business leader, who has played a central role in driving Marketo's growing success. Bill's accomplishments are further proof of Marketo's single-minded focus on helping corporations of all sizes and types to accelerate their revenue growth and fuel their business-building results."
Together with Marketo's VP of Marketing, Binch also crafted an integrated marketing and sales alignment process that gives the company unprecedented insight into how its business is running. This model has enabled Marketo to consistently convert 60% of its in-profile leads to opportunities and 35% of its opportunities into closed sales.
"It's an honor to be named Worldwide VP of Sales of the Year," said Binch. "Marketo continues to realize tremendous growth from companies looking to improve their marketing results, increase sales-ready leads, and drive revenue. It's a privilege to be acknowledged, especially since this award was determined by an extremely renowned board of worldwide judges and advisors."
More than 800 entries from organizations of all sizes and in virtually every industry were submitted to this year's competition, an increase of more than 60% over 2010. New this year were categories to recognize new products and services and solution providers, of which Marketo's Revenue Cycle Analytics was named a finalist in the New Marketing Solution Category.
Details about the Stevie Awards for Sales & Customer Service and the list of honorees in all categories are available at stevieawards.com/sales.
About Marketo
Marketo is the global leader in Revenue Performance Management. Marketo's powerful yet easy-to-use marketing automation and sales effectiveness solutions transform how marketing and sales teams of all sizes work — and work together — to drive dramatically increased revenue performance and fuel business growth. The company's proven technology, comprehensive services, and expert guidance are helping corporations around the world to turn marketing from a cost center to a business-building revenue driver.
Marketo has been recognized with the 2010 CODiE award for "Best Marketing Solution," the "Best Sales and Marketing 2.0 Solution" from SellingPower, and the "Best Marketing Automation Application" by Salesforce customers on the Force.com AppExchange. As of January 2011, more than 850 enterprise and mid-market clients globally have adopted Marketo solutions. For more information, visit Marketo.com, or subscribe to Marketo's award-winning blogs at blog.marketo.com/.
About The Stevie Awards
Stevie Awards are conferred in four programs: The American Business Awards, The International Business Awards, the Stevie Awards for Women in Business, and the Stevie Awards for Sales & Customer Service. Honoring organizations of all types and sizes and the people behind them, the Stevies recognize outstanding performances in the workplace worldwide. Learn more about the Stevie Awards at stevieawards.com.
Sponsors of the 5th annual Stevie Awards for Sales & Customer Service include American Support, the Business TalkRadio Network, Competence Call Center, Infogroup, the Sales Management Association, and ValueSelling Associates.
PR Contact:
Jana Lass. Marketo
O: 650.240-4693
C: 702.334.4010
jana(at)marketo(dot)com
###