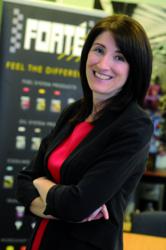 Forté prides itself on providing the best engine treatments to the industry, helping technicians make a noticeable difference to a car's performance and enhancing customer satisfaction.
Coventry (Vocus/PRWEB) 24 February 2011
Rachel has worked at Forté for 16 years, latterly as Marketing Director, and has played a key role in helping it grow from a company which started with 20 salesmen to its current nationwide team of around 100 salesmen in 11 regions. The company works with around 9,000 garages, workshops and franchised dealers throughout the UK.
She joined Forté after graduating with a degree in Engineering at Coventry University. Rachel also holds a Chartered Institute of Marketing (CIM) qualification. She has designed and delivered all of the company's marketing and overseen the implementation of innovative projects such as the Forté Technical Helpline, offering practical assistance to garages.
Last year the company also expanded its range of consumables - brake cleaner, silicon lubricant, electrical cleaner and degreaser, rust penetrant, copper grease and white grease - in response to increasing demand from garages. The six aerosol products complemented Forté's existing range of 16 vehicle treatments.
Four years ago Rachel spearheaded the launch of the Forté-backed Good Garage Scheme which is aimed at safeguarding standards in the motor repairs industry and has grown to a membership of more than 3,000 independently run workshops and garages throughout the UK.
Rachel said: "Forté prides itself on providing the best engine treatments to the industry, helping technicians make a noticeable difference to a car's performance and enhancing customer satisfaction. For the last 16 years I've taken great pride in helping Forté become and remain a major player in the industry in the UK and I'm looking forward to build on that success in my new role. The current austerity measures in the UK will no doubt continue to present challenges for businesses in all sectors but Forté is in a strong position to meet those challenges as we move forward in 2011 and beyond."
###