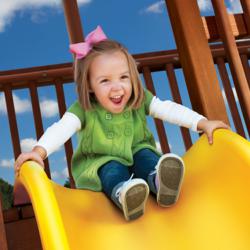 Raleigh, NC (Vocus/PRWEB) February 24, 2011
As first lady Michelle Obama's "Let's Move" campaign against childhood obesity shifts more focus to companies that make backyard playsets, the prominence of the players in that market have shifted as well.
Even with the popularity of video games and electronics, the swing set industry is alive and well. Within the swing industry, more parents and grandparents are choosing wooden swing sets as opposed the metal alternatives of yesteryear. Woodplay, the original redwood playset company, based in Raleigh, N.C., is emerging as the leader in wooden swing set quality, safety, affordability and sustainability.
Early this year, Woodplay added new dealers with multiple locations in major markets such as Philadelphia, Cincinnati, Cleveland, Detroit, Grand Rapids, St. Louis, Atlanta, Nashville, Memphis, Chattanooga, Knoxville, Charlotte, Dallas, Denver and San Francisco. "90% of the new dealers were formerly with major competitors," says Tom Ellingson, Woodplay Product Manager. That shift added close to 50 retail locations nationwide in 2011, a 30 percent increase from 2010.
"A significant number of the main players in selling residential swing sets in major markets have switched suppliers and are choosing Woodplay as the new industry leader," says Ellingson.
Dealers prefer Woodplay's quality standards and attention to detail such as bigger wooden beams, triple-joint construction, and numerous playground safety features, including recessed hardware and non-slip flat steel safety rungs on ladders as opposed to the common round pipe used in many swing sets. Commercial-grade hardware is used throughout the swing sets, as well. Woodplay swing sets are considered among the safest in the industry. The sets' heavy-duty construction not only adds to safety, but leads to longer swing set life and reduced maintenance. Woodplay complies with all ASTM standards for quality and safety. In fact, the company serves on the board of the ASTM, a leading standards organization whose quality, testing and safety guidelines are recognized globally. And Woodplay boasts the best warranty in the industry—a limited lifetime warranty for the lumber and five years for all other components and accessories.
The shift in sellers benefits the consumer as well as the company. "The increased volume will lead to even more innovation at Woodplay," Ellingson says. "Woodplay has always been the innovation leader but increased volume will allow even more room to grow. Watch for more new products this year."
###